BLU launches a new brand with a "mission to bring smartphone prices back to reality"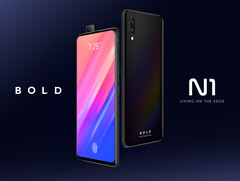 The smartphone OEM BLU has unveiled a new sub-brand, BOLD. It will offer new "premium flagship and flagship-like" devices that buck the trend of rising prices in this market. The first BOLD phone, the N1, is powered by the mid-range MediaTek Helio P70 SoC, and has a 6.4-inch FHD+ notchless display.
BLU's new sub-brand BOLD is a new initiative to sell devices with "flagship-like" features and materials, but with potentially attractive prices. Unlike some other companies, it intends to limit its product launches to 1 or 2 a year, perhaps as a unique selling point. Its first device, the N1, does pack the glass rear panels and CNC-cut metal frames that are de rigeur in the premium smartphone market of today.
However, this new phone is based on the distinctly mid-tier MediaTek Helio P70. Then again, it does have one of the more modern features known to mobile device-kind: the pop-up selfie camera. This renders its 6.4 inch FHD+ AMOLED panel an "All Screen Display". The N1 also has a fingerprint sensor in this screen, as well as Qi wireless charging.
Then again, its 4GB of RAM (paired with 128GB of internal memory) means it is already falling behind as we move toward the end of 2019. The BOLD N1 also has dual 16+5MP rear-facing cameras, which are restricted to 1080p video at 30 frames per second. However, it price may make up for these possible shortcomings: it is sold on Amazon and on BLU's website for US$249.99, although it is on special offer at $199.99 through the latter for a limited time.