Apple iPhone SE 2: New rumour throws upcoming US$399 "budget" smartphone into doubt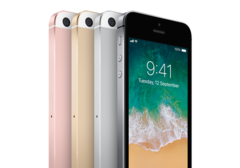 If you were underwhelmed by the renders of the iPhone SE 2, then a new rumour doing the rounds may whet your appetite. How about a device the size of an iPhone 8 but with a 5.4-inch screen and Face ID, instead? Such a design would certainly look more modern than what we have seen of the iPhone SE 2 until now, at any rate.
Only a few days have passed since OnLeaks posted renders of the iPhone SE 2, or the iPhone 9 as it may eventually be called, but a new rumour is already contradicting their authenticity. Citing conversations with suppliers at CES 2020, Macotakara claims that Apple is still developing an updated version of the iPhone 8, but not with the 4.7-inch display as we had previously thought. Instead, the device will apparently have a 5.4-inch panel.
Apple will fit this larger panel in an iPhone 8 body though, which it will achieve by ditching the home button in favour of a TrueDepth camera. In short, Face ID will be the sole method of biometric authentication instead of Touch ID. The inclusion of a TrueDepth camera means that the SE 2 will have a notch, too.
The device also will, as we previously suspected, feature a better rear-facing camera than the iPhone 8. Macotakara did state which sensor Apple will opt for, though. Incidentally, the A13 Bionic is still expected to power the SE 2.
While this information contradicts one of the internet's most respected smartphone leakers, Macotakara has form on receiving information about upcoming Apple products at CES. Last year, the website reported that it had learned from CES 2019 of Apple developing a 7th generation iPod Touch. The device did not end up having a USB Type-C port as it had originally speculated, although it had conceded that a Lightning port could remain instead.
Overall, it seems that the iPhone SE 2 may just be a smaller iPhone 11. However, a new US$399 iPhone will likely sell exceptionally well regardless of what it looks like.