Rumour | iPhone SE 2: Apple's next budget smartphone expected to sell over 30 million units as trial production run begins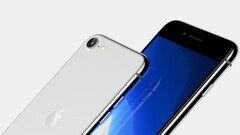 The iPhone SE 2 will arrive as soon as next month, according to the latest round of rumours. Analysts predict that the budget smartphone, expected to retail for around US$399, will sell over 30 million units too. The SE 2, which Apple may market as the iPhone 9, has also entered a trial production run ahead of mass production later this month.
The iPhone SE 2 has already entered production, according to sources cited by MyDrivers. The device, which is said to sport the design of the iPhone 8, will start being mass-produced later this month following the current trial run. Apple is still targeting a March release date too, with the coronavirus not set to disrupt production.
Moreover, MyDrivers states that industry sources have informed it that Apple's supply chain has the capacity to produce up to 2.4 million iPhone SE 2 handsets per month. The numbers do not quite follow here, but Apple is apparently estimating to sell over 30 million units this year, a figure that would easily outstrip most smartphone sales. However, it is worth noting that the iPhone XR sold around 47 million units between Q4 2018 and Q2 2019.
There is still no confirmation about whether the SE 2 will feature a 4.7-inch display like the iPhone 8, or a 5.4-inch panel as other rumours have suggested. The device, which may be sold as the iPhone 9, is expected to feature the A13 Bionic and one rear-facing camera, though.