Apple fixes the autocorrect bug on iPhones and iPads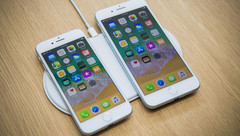 The bug that came with iOS 11.1 and simply did not allow some users to type "i" by replacing it with "A" and a Unicode symbol has just been fixed by iOS 11.1.1. This update also takes care of an issue with Siri ("Hey Siri" sometimes not working).
Back in September, iOS 11 made its debut with the introduction of the iPhone 8 lineup. At the end of October, just a few days prior to the release of the iPhone X, Apple introduced iOS 11.1 with a few new emojis, as well as a few minor tweaks and security patches. Unfortunately, an annoying bug also managed to slip through, making it impossible for some users to type the letter "i" after applying the update.
The bug mentioned above was reported by more and more users starting last week. Each time the user is typing the letter "i," the result is that this character is replaced by "A" a Unicode symbol. Although the bug was fixed in iOS 11.2 beta, since the reports about it kept pouring in, Apple decided to come up with a minor update that targets this problem.
In addition to the annoying autocorrect bug mentioned above, iOS 11.1.1 also irons out a Siri-related bug. Due to this issue, "Hey Siri" stops working. However, there is no new security content in this last update.
The upcoming iOS 11.2 update will come with a few new animations, a redesigned camera emoji, a new Now Playing option for controlling content on the Apple TV in Control Center, and it is also expected to bring the TV app to Sweden and Norway. Since it is still in a beta stage, iOS 11.2 might come with a few more changes. Hopefully, there will be no new bugs this time.