Apple employee charged with theft of confidential self-driving car information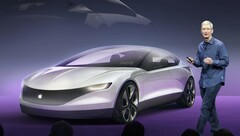 It has been reported that a former Apple employee has been charged with stealing information about self-driving cars from the Cupertino company. The worker, named as Jizhong Chen, has been accused of taking photos in sensitive areas and obtaining detailed information about the secret project with the intention of passing the details on to a rival Chinese firm.
When it rains for Apple, it pours. Among all the financial and legal issues the company seems to be struggling with, now it seems espionage is back on the list of problems to deal with. An engineer called Jizhong Chen was spotted by another employee taking "wide-angled photographs" in places where he should not have been taking snapshots (likely with a Huawei Mate 20 Pro too, just to rub salt into the wound). The alleged spy was working on Apple's self-driving car project.
Chen gave permission to an Apple Global Security team to have his personal computer checked and incriminating files and pictures were found on his hard drive. However, he claims the information found on his computer was solely for the purpose of internal vacancy application preparation. The engineer was apparently arrested one day before a planned journey to China, and it was discovered that he had made a job application to a rival Chinese company that is also working on autonomous cars. The FBI is now carrying out a thorough investigation into the matter.
Apple's self-driving car project, Titan, has already been beset with issues. Over 200 people were dismissed from the team recently, and now it's possible that Apple's best efforts to keep the details of the project secret could have been in vain. In July 2018, former Apple employee Xiaolang Zhang was detained and also accused of stealing secrets from the self-driving car venture.