AMD to offer an open, cross-platform implementation of DLSS-esque super-sampling, will work with Intel and NVIDIA for high-quality visuals across PC and console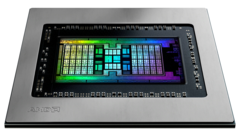 AMD's new Radeon RX 6800 and RX 6800 XT were shown to be quite competitive against their NVIDIA counterparts in most rasterization benchmarks. While Navi 21's ray tracing is not too shabby for the first attempt, AMD hasn't detailed much on an NVIDIA DLSS-equivalent super-sampling approach. However, AMD's Scott Herkelman and Frank Azor happened to drop a few hints on what we can expect to see in the near future.
Speaking to HotHardware's Dave Altavilla and Marco Chiappetta, Frank Azor said that RDNA 2 focuses on gaming first and foremost. We've seen with the CDNA-based Instinct MI100 launch that AMD is separating datacenter and gaming architectures. Azor said that while RDNA2 cards can possibly do well in non-gaming workloads too, the priority with RDNA 2 is gaming first and foremost.
Coming to the topic of super-sampling (@30:01 min in the video below), Scott Herkelman said that AMD's goal is opposite to that of NVIDIA's when it comes to a super-sampling implementation. Without divulging too many details, Herkelman said that AMD's game development partners across PC and console have been "begging" them not to create vendor or game-specific APIs to lessen the burden of coding for multiple architectures and reduce development time.
AMD is apparently looking to work with Intel and NVIDIA as well to create an open super-sampling method that works for games across PC and console — code that developers across platforms can easily reuse without much effort. However, developing it will take time so AMD is not committing anything right now apart from the fact that it is investing a lot of resources into it and that it will definitely come to the new Radeon cards and possibly even to other platforms in the near future.
Herkelman also felt the ray tracing performance from RX 6000 cards are "pretty good" and while vast majority of games currently available still don't use this feature, he did confirm that ray tracing performance will improve over time as more cross-platform games across PC and console become available.
On the point of whether Smart Access Memory support can be expected for motherboard chipsets such the B550, Frank Azor said that Smart Access Memory has been validated for 500-series motherboards and Zen 3 Ryzen processors for now. Performance uplift and reliability for enabling Smart Access Memory with other chipsets will be explored in the future.
Watch the video below for more insights into the RX 6000 lauinch from Scott Herkelman and Frank Azor.
Though a cell and molecular biologist by training, I have been drawn towards computers from a very young age ever since I got my first PC in 1998. My passion for technology grew quite exponentially with the times, and it has been an incredible experience from being a much solicited source for tech advice and troubleshooting among family and friends to joining Notebookcheck in 2017 as a professional tech journalist. Now, I am a Lead Editor at Notebookcheck covering news and reviews encompassing a wide gamut of the technology landscape for Indian and global audiences. When I am not hunting for the next big story or taking complex measurements for reviews, you can find me unwinding to a nice read, listening to some soulful music, or trying out a new game.