Deal | AMD's mainstream 6-core Ryzen 5 2600X desktop processor dips under US$200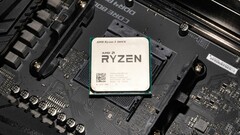 With the third generation of Ryzen processors looming over the horizon, now seems like a good time to pick up a second-generation processor for a bargain price. At the moment, you can purchase an AMD Ryzen 5 2600X desktop CPU for US$184.99 at Newegg. Amazon US is offering the same chip for even less, at a low price of US$179.99.
There are some good deals to be had on one of AMD's Ryzen processors based on the Zen+ microarchitecture. The Pinnacle Ridge Ryzen 5 2600X offers six cores and 12 threads for processing power, and it can clock from a base of 3.6 GHz up to a boost of 4.2 GHz. In terms of cache, L1 is supported with 576 kB, L2 at 3 MB, and L3 with 16 MB.
The AMD Ryzen 5 2600X was originally released in April 2018 for a recommended price of US$229. At the time of writing, it's possible to find the desktop CPU for US$179.99 on Amazon.com and US$184.99 on Newegg. AMD's Wraith Spire cooler is also included in either deal, which makes them even better value for money.
The TDP of the Ryzen 5 2600X is set at 95 W and the processor offers limited overclocking ability, so it's a good choice for desktop computer owners who want to boost on a budget. There's likely to be plenty of savings and deals coming on second-generation processors from AMD over the next few months, thanks to the impending introduction of the third-generation Zen 2-based "Matisse" range of Ryzen 3000 processors.