4 reasons to ditch your old MacBook for a Windows laptop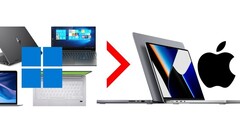 The choices and comments made on this list belong solely to the author.
1. The notch
This is a minor but controversial design decision Apple has made with its latest M1 MacBook Pro lineup. The rumours leading up to the launch said that the new ultrabooks would feature the infamous notch to house Apple's Face ID sensors. When the device eventually launched, this was revealed not to be the case.
While there is once again speculation that the MacBook Pro refresh will feature Face ID, the notch seems to just be a design decision at this point. The fact that the notch exists for no apparent reason other than to house the webcam and microphones, as high-quality as they may be, is one that frustrates the aesthetically-obsessed laptop crowd.
2. Rosetta 2
What Apple has done with the ARM architecture and the M1, M1 Pro and M1 Max SoCs is phenomenal. They are not the most powerful CPUs to be found, but they are certainly a potent blend of power and efficiency. Apple has even developed a seriously impressive translation layer, called Rosetta 2, to make non-native x86 programs compatible with its new ARM systems.
The problem is that these translated apps perform inconsistently. Sometimes, they perform better than they do on similar x86 hardware and other times you end up with the M1 performing worse than CPUs that would ordinarily not come close. What's also somewhat concerning is that Apple has not stated how long Rosetta 2 will be supported. So, any developer that does not maintain their projects may be left out in the cold.
3. Design flaws and Apple's attitude towards repair
This is not so much a criticism of the latest MacBook lineup as it is of Apple as a company. In the last few years, there have been numerous repair and longevity-based scandals involving both Apple laptops and smartphones. The 2016 and 2017 MacBook Pro models suffered from "Flexgate" and the iPhone 6 suffered from "Touch disease." More recently, the butterfly keyboard in both MacBook Pro and Air models caused major problems due to poor design and the difficulty to replace it once failure occurs.
This is not to say that there will be any such problems with the M1 range of MacBooks, but it should be noted that Apple has historically been very defensive when these issues arise and has even resorted to blaming user error for the issues in an attempt to avoid responsibility.
4. Variety is the spice of life
Ultimately, as with any decision, there are trade-offs to be made. In the case of MacBooks, it's relatively simple. There are basically two questions you need to ask yourself: "Do I want to spend more or less money?" and "Do I need a big laptop or a small laptop?" While this simplifies things significantly, it also takes the fun and individuality out of it.
In the world of Windows, you can choose from dozens of manufacturers who each offer several different designs, each with their own strengths and weaknesses. You can get a gaming laptop that's thicker but flies through tasks, or you could get a thin-and-light business laptop, a 2-in-1 for art, or a monstrous workstation with a Xeon processor and a Quadro GPU. The possibilities are endless, and sometimes it's better to get a tool that is really good at one or two things, rather than one that is fairly good at most things.
This ASUS ROG Flow X13 is a perfect example of a unique Windows machine and is available at BestBuy.
My interest in tech started in high school, rooting and flashing my Motorola Defy, but I really fell down the rabbit hole when I realised I could overclock the i7 930 in my Gigabyte pre-built PC. This tinkering addiction eventually lead me to study product design in university. I think tech should improve the lives of the people using it, no matter the field. I like to read and write about laptops, smartphones, software and trends in technology.