(July 10, 2020 10:59 AM update: Dell have responded to our inquiry saying that the XPS 17 "can pull more than 130 W" due to the onboard Core i7 CPU and RTX 2060 Max-Q GPU even though its PSU is rated to deliver 130 W.
"By design, we allow the system to tap the battery for more juice when that happens," the Dell rep confirms. "So yes, when it's needed, the system can dip into the battery, then recharge it later."
The alternative, according to Dell, would have been to ship the XPS 17 with a larger and more cumbersome AC adapter which would have made the system less travel friendly.
We've updated our original article below to reflect the new info as this battery discharge behavior is not a bug but an intentional design choice. The steady discharge rate when running high processing loads is an unfortunate compromise for the high-power CPU and GPU involved.)
(July 10, 2020 2:00 PM update: Dell have clarified with us that they will be investigating the 130 W AC adapter power supply. The adapter should be able to provide 130 W of power to the laptop instead of the ~105 W maximum that we are recording. Thus, while the slow battery discharge rate may be normal when running demanding loads, it may be faster than what Dell was initially anticipating. We will continue to update this page as appropriate.)
(July 11, 2020 update: We want to clarify that Dell are aware of two issues going on here. The first is the slow battery drain when plugged in which they have confirmed to be normal. The second is that the XPS 17 appears to be unable to pull more than ~100 W from the 130 W AC adapter which is likely exacerbating the first issue. Their teams are currently in the process of reproducing this in their labs.)
(July 30, 2020 update: Dell has released an official statement and potential solution regarding the battery drain. See here for more details.)
We're knee-deep in our review of the vaunted XPS 17 9700 equipped with the octa-core Core i7-10875H CPU, GeForce RTX 2060 Max-Q GPU, and 4K 16:10 touchscreen and yet we've already discovered a major bug. In this case, the 17.3-inch laptop appears to be having battery recharge drawbacks when under high processing loads like gaming. We're able to reliably reproduce this with a unit provided by Dell.
What Is The Problem?
Running any processing load that requires greater than 100 W will cause the battery to slowly drain over time when it should be recharging instead. The problem isn't unique to the XPS 17 as some older Razer Blade Stealth and Microsoft Surface Book models would exhibit similar charging problems. All of these systems can recharge via USB-C.
Lower-end XPS 17 SKUs without the discrete Nvidia RTX GPU may not suffer from this problem much like what we observed on the older Razer Blade Stealth SKUs with and without the discrete Nvidia MX150 GPU.
How We Reproduced The Battery Drain
We first started on a full battery charge of 100 percent and a battery capacity of 91 Wh as reported by HWiNFO. Then, we would run Witcher 3 at 1080p High settings while observing for any changes to the battery. Sure enough, battery percentage and remaining capacity would drop to 65 percent and 60.5 Wh, respectively, after two hours of gameplay. The steady decline in battery capacity can be observed and recorded by the second.
When we closed the game, the recharge rate would jump back to normal.
Why Is This Happening?
The official specification for power-over-Thunderbolt 3 is up to 100 W, but Dell's unique implementation for the XPS 15 and XPS 17 series is set to 130 W instead since these are high-power laptops running on demanding Core H-series CPUs and GeForce GTX/RTX graphics. What we're seeing is that the total system power when running Witcher 3 is around 135 W, but our Gossen multimeter reveals that the system can only pull a maximum of 105 W from the AC adapter as shown by our graphs below. It's safe to assume that this difference is responsible for the slow battery drain when running the game.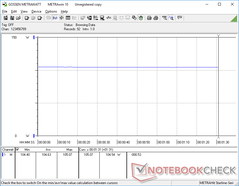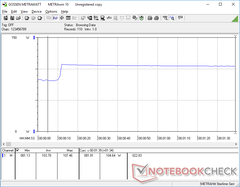 Are Other XPS 17 Users Experiencing The Same Phenomenon?
A quick look at the Dell Reddit page shows several posts with similar charging problems as what we've described here. We certainly can't confirm each source, but we can't deny them either based on our own experience here.
(July 10, 2020 update: The Precision 5750 series, which is based on the same XPS 17 chassis, will also exhibit the same battery drain disadvantage when under demanding loads. This will probably be a greater annoyance to Precision users who are more likely to run high loads for longer periods than XPS 17 owners.)

Can This Be Fixed?
Dell has confirmed that the battery discharge behavior is intentional and no "fix" is planned, but there will be an investigation on the 130 W AC adapter. The bright side is that this likely won't impact most XPS 17 owners since you would have to be running extreme loads for about 6 hours straight to fully discharge the battery ⁠— an unlikely scenario. From a consumer's perspective, however, plugging in your laptop comes with the expectation that the battery will not drain. To have the opposite be true will indubitably confuse the user base as exemplified here.
It's worth mentioning that Razer faced a similar issue with its 2018 Blade Stealth series before ultimately addressing it for the 2019 refresh. After all, it's hard to argue with the phrase "If I plug in my laptop, I expect it to recharge".
It's important to note that the XPS 15 9500 uses the same 130 W AC adapter as the XPS 17 9700 and we experienced no such charging issues on the 15.6-inch model. In fact, we were able to observe power consumption rates of up to 135 W on the XPS 15 whereas the XPS 17 is "capped" at 105 W.
After graduating with a B.S. in environmental hydrodynamics from the University of California, I studied reactor physics to become licensed by the U.S. NRC to operate nuclear reactors. There's a striking level of appreciation you gain for everyday consumer electronics after working with modern nuclear reactivity systems astonishingly powered by computers from the 80s. When I'm not managing day-to-day activities and US review articles on Notebookcheck, you can catch me following the eSports scene and the latest gaming news.