AMD Ryzen 5 1400 vs AMD Ryzen 3 2200U
AMD Ryzen 5 1400
► remove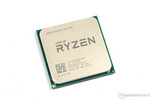 The AMD Ryzen 5 1400 is a desktop processor with 4 cores and Hyper Threading (SMT). It is the slowest Ryzen 5 quad-core processor in the beginning of 2017, but the 65-watt TDP is similar to the hexa-core Ryzen 5 1600.
The Ryzen 5 1400 has a base frequency of 3.2 GHz and can reach up to 3.4 GHz via Turbo (up to 2 cores) or 3.45 GHz via XFR (also up to 2 cores). The maximum clock for 3-4 cores is 3.2 GHz.
The processor based on the Zen architecture is not fully convincing in games. AMD blames missing optimizations from the gaming producers.
AMD Ryzen 3 2200U
► remove
The AMD Ryzen 3 2200U is a mobile APU for thin and light laptops that was announced in October 2017. It includes two Zen cores clocked at 2.5 to 3.4 GHz and offers SMT (four threads at once) and 4 MB L3-Cache. The integrated graphics card is called Radeon RX Vega 3 and offers only 3 CUs (192 Shaders) clocked at up to 1000 MHz. The TDP is configurable between 12 and 25 Watt (15 Watt nominal).
More information on Raven Ridge can be found in our launch article.
| | | |
| --- | --- | --- |
| | AMD Ryzen 5 1400 | AMD Ryzen 3 2200U |
| | AMD Ryzen 5 | AMD Raven Ridge (Ryzen 2000 APU) |
| | Zen | Zen |
| : Raven Ridge (Ryzen 2000 APU) Zen | | |
| | 3200 - 3400 MHz | 2500 - 3400 MHz |
| | 384 KB | 192 KB |
| | 2 MB | 1 MB |
| | 8 MB | 4 MB |
| | 4 / 8 | 2 / 4 |
| | 65 | 15 |
| | 4800 | 4500 |
| | 14 | 14 |
| | AM4 | AM4 |
| | XFR, FMA3, SSE 4.2, AVX2, SMT | XFR, FMA3, SSE 4.2, AVX2, SMT |
| | | |
| | | |
| | | |
| iGPU | | AMD Radeon RX Vega 3 ( - 1000 MHz) |
Performance Rating
- CB R15 + R20 + 7-Zip + X265 + Blender + 3DM11 CPU