COMPUTEX 2017 | Zotac shows off its own classy eGPU Thunderbolt 3 docking station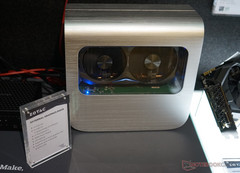 The market for external graphics cards seems to be growing exponentially this year with announcements left and right. The latest is a miniature eGPU dock from Zotac able to accept graphics cards of up to 22 cm in length with a launch date no earlier than Q4 2017.
Like the recently unveiled Aorus Gaming Box, the unimaginatively named Zotac "External Graphics Dock" aims to be a miniaturized eGPU solution when compared to the much larger Razer Core or Alienware Graphics Amplifier. The prototype on the Computex show floor this year carries a clean chrome-cut appearance without any of the gaudy lighting effects of the Aorus or sharp designs of the Alienware. Its smaller size will accept double-width graphics cards of up to 22.8 cm (9 inches) in length to be an ideal fit for Zotac's upcoming 21 cm-long GeForce GTX 1080 Ti Mini graphics card. In comparison, the upcoming Aorus Gaming Box looks unable to house graphics cards longer than 17 cm while the Razer Core can fit full-length graphics cards of up to 31.2 cm (12.2 inches).
Additional features of the Zotac External Graphics Dock is the integrated 400 W PSU on the base of the unit plus two USB 3.0 ports. The manufacturer tells us it will aim for a $400 USD starting price and to not expect availability before Q4 2017 at the earliest.