You can now make and answer phone calls on your PC via Windows 10 Your Phone app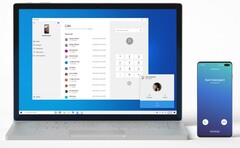 A new feature in the latest Windows 10 Insider Preview build allows Windows to make and receive phone calls when synced with a compatible Android smartphone. The feature, part of Microsoft's Your Phone app, is expected to roll out to the public sometime in the first half of next year.
Microsoft has been steadily building up the "Your Phone" app in Windows 10. Recently, the company unveiled support for a few more Samsung handsets in the Insider Preview Build version of the app. Now users can answer and make phone calls through Windows 10 without even picking up their phone.
Using the "Calls" feature, users can link their supported Android smartphone to view or decline incoming calls, send calls straight to voicemail, answer an incoming call, or call out to another number through their PC. The app can also transfer calls from the user's PC to their phone and vice versa.
This feature, like the additional handset support mentioned above, is currently only available to members of the Windows 10 Insider Preview program. However, current estimates peg widespread availability sometime in the first half of 2020. As it stands, Insiders will need a supported Android smartphone running at least Android 7.0 Nougat and Windows 10 build 18362.356 or later. Their PC will need to have Bluetooth connectivity as well.
It's interesting that Microsoft is pressing hard into phone connectivity. MacOS has been able to sync to a compatible iOS device to handle iMessage messaging and FaceTime video and audio calls for years. It's nice to see Microsoft incorporating similar features into Windows.