Xiaomi Mi Note 2: A flat-screen version might arrive on November 11th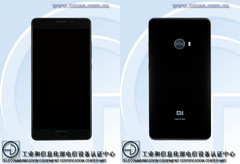 Xiaomi has sent a new, flat-screen version of the Mi Note 2 to Chinese regulatory agency TENAA for certification. This new version might arrive next week just in time for a major sales event in China.
The first batches of the Mi Note 2 and the borderless Xiaomi Mix were sold out in seconds and, according to reports coming in from China, Xiaomi is having a hard time shipping enough devices of the curved screen version to customers. Maybe that is why they decided to release yet another version of the popular Mi Note 2 and it might even arrive as early as next week just in time for the big sales event in China on November 11th.
We got our hands on a listing by Chinese regulatory agency TENAA, that reveals a new version of the Mi Note 2 with the only difference being a flat screen instead of the curved one, that is currently selling like hotcakes. The display itself seems to be the same as well, the device still features a 5.68 inch OLED panel with Full-HD resolution, just not with curved edges on either side. The rest of the phone also seems to be exactly the same as the current one, so let's hope, Xiaomi will also release a world edition of the flat screen version supporting more than 20 LTE-bands. We should learn more about pricing next week.