Why your next Tiger Lake laptop likely won't perform as well as all those Intel slides claim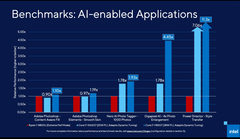 Views, thoughts, and opinions expressed in the text belong solely to the author.
Intel dropped a whole bunch of details on their 11th gen Tiger Lake series this week complete with detailed press releases, interviews, and performance slides. According to their own benchmark results for the Core i7-1165G7, raw multi-thread performance should rival the Ryzen 7 4700U while the integrated Xe GPU should be on par with the discrete GeForce MX350.
The problem with manufacturer-provided numbers is that they usually show the processor at its best running on a machine that isn't yet ready for retail. When pressed for an answer on what specific Tiger Lake laptop Intel were using for their public benchmarks, the chipmaker wouldn't confirm with us other than it was a "thin and light system". In other words, the numbers they are showing are unlikely to be representative of what you'll eventually get from OEMs. This detail is important because it's inevitable that laptops with the same Core i7-1165G7 processor will have different CPU performance levels due to how laptop makers will choose to exploit the wide 10 W to 28 W dynamic tuning range.
One only needs to look at the Ice Lake Core i7-1065G7 as an example. The Microsoft Surface Laptop is able to run the CPU 75 percent faster than on the LG Gram 17 with plenty of other examples in between these two extremes. We fully expect to see similar results when Tiger Lake becomes more widely available across different Ultrabook designs.
Views, thoughts, and opinions expressed in the text belong solely to the author.
After graduating with a B.S. in environmental hydrodynamics from the University of California, I studied reactor physics to become licensed by the U.S. NRC to operate nuclear reactors. There's a striking level of appreciation you gain for everyday consumer electronics after working with modern nuclear reactivity systems astonishingly powered by computers from the 80s. When I'm not managing day-to-day activities and US review articles on Notebookcheck, you can catch me following the eSports scene and the latest gaming news.