Thunderbolt is becoming increasingly common on laptops these days to offer both high bandwidth transfer rates and charging capabilities all through a single port. To make the most of the feature, users may want to consider investing in docking stations especially since many thin-and-light laptops are lacking in ports and sometimes storage. Western Digital has sent us its Thunderbolt-based WD_BLACK D50 Game Dock with an integrated 1 TB NVMe SSD for our honest impressions.
The first thing we noticed upon opening the packaging is how solid the build quality of the dock is. Unlike the Baseus dock we recently reviewed, the WD model doesn't rely on flimsy stands. The dock is designed to be positioned vertically, however, as there are unfortunately no rubber feet on either of its two large metal faces for horizontal positioning. The unit is susceptible to sliding if positioned horizontally as a result.
A huge disadvantage of the dock that users will notice immediately is its relatively large proprietary external AC adapter. When the power adapter is almost as large as the actual dock, then you know it's going to be a hassle to transport. We would love to see WD integrate the PSU into the dock itself for future models.
For our host device, we connected the D50 dock to an MSI GS66 10UG. Keep in mind that users must connect to a Thunderbolt port; connecting to a USB-C 3.0, 3.1, or 3.2 port with no Thunderbolt support will not work. Once connected, the 1 TB drive and all ports on the docking station become useable without any further installations as one would expect. The dock would also charge our MSI laptop simultaneously albeit with an output of only 87 W instead of the 100 W maximum specification of Thunderbolt 3.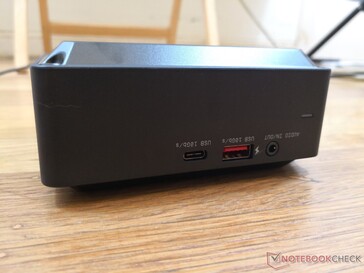 The 1 TB drive comes loaded with an older version of the WD_BLACK Dashboard software. Attempting to install this software on our MSI wouldn't even work and so we had to visit the official D50 Game Dock product page for the newer software version instead.
The software is a mixed bag. On the bright side, it's simple to use with plenty of features, helpful tooltips, and a nonintrusive UI that's easy on the eyes. It works with almost any Western Digital drive as well meaning the software is definitely worth a look for owners of multiple WD SSDs. Our MSI configuration, for example, comes with a 1 TB WD SN730 which the dashboard is able to recognize upon launching. Non WD drives will not appear on the software.
There are a couple of aspects that really bring down the software. Firstly, there is always a large ad present when connected to the internet. In our case, WD is advertising its Edge Rover software that we have no interest in trying. This wouldn't be an issue if there was a quick way to close the ad, but it appears to be permanent. As far as we're concerned, customers who paid for the WD SSD to use this software should not be subjected to permanent ads occupying a quarter of the whole window.

Our second complaint is that the software window cannot be maximized. Many of its features and real-time graphs could have been better organized into fewer larger tabs instead of a bunch of smaller ones if it weren't for the fixed-resolution window. This is made even worse by the permanent "Edge Rover" ad which takes valuable space away from the main features of the actual software. An option to export the real-time graphs and drive data would have been great for enthusiasts.
A unique feature of the D50 dock is a Gaming Mode toggle which "enhances drive performance for gaming loads". However, CrystalDiskMark results don't show any benefits of the mode nor can we tell the difference during actual gameplay. Toggling the mode on or off annoyingly requires a full PC reboot. Gamers may as well leave Gaming Mode on permanently.

As a whole, the D50 Game Dock is a well-built docking station with its fair share of notable disadvantages. The lack of an HDMI port, which is a commonly used port for most users, isn't even available on this dock. Performance sustainability is excellent in our DiskSpd loop tests, but there is definitely room for improvement beyond simply performance.
Users can learn more about the Western Digital D50 Game Dock via its product pages here. SKUs include 1 TB and 2 TB options with a third option housing no drive at all for a much lower price.
Pros
Cons
+ Solid build quality
+ Great SSD performance sustainability
+ Software has handy features and shortcuts
+ RGB LED profile is compatible with Razer, MSI, Asus, and Gigabyte PCs
- AC adapter brick required
- Fan can get quite loud when the drive is running at maximum transfer rates
- Not compatible with USB-C ports that don't support Thunderbolt
- No SD card reader, mini-DisplayPort, or HDMI
- Internal drive is not designed to be easily upgradeable
- Permanent ads on the software dashboard
- Software window is small and cannot be maximized
- No fan RPM reading
- Dock slides around too easily when positioned horizontally
After graduating with a B.S. in environmental hydrodynamics from the University of California, I studied reactor physics to become licensed by the U.S. NRC to operate nuclear reactors. There's a striking level of appreciation you gain for everyday consumer electronics after working with modern nuclear reactivity systems astonishingly powered by computers from the 80s. When I'm not managing day-to-day activities and US review articles on Notebookcheck, you can catch me following the eSports scene and the latest gaming news.