Ubuntu 18.10 "Cosmic Cuttlefish" now available, new default theme and performance improvements in tow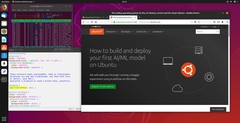 As previously announced, the Ubuntu 18.10 release comes with the GNOME 3.30 desktop and Yaru — the new default theme that has been developed by the community. The new kernel and updated graphics libraries now support the Raspberry Pi 3 Model B/B+, the AMD Vega M-powered Kaby Lake G series, as well as the Qualcomm Snapdragon 845.
Working For Notebookcheck
Are you a techie who knows how to write? Then join our Team! Especially English native speakers welcome!
Currently wanted:
News and Editorial Editor - Details here

Ubuntu 18.10 "Cosmic Cuttlefish" is now available and, although it is not an LTS version, it features a few noticeable changes. The most obvious one is the GNOME 3.30 desktop environment with a new default theme — previously called Communitheme — known as Yaru. However, there are also important changes under the hood.
While Ubuntu 18.10 comes with various updated pre-installed apps such as Firefox 63 and LibreOffice 6.12, the essential changes are delivered by the Linux 4.18 kernel: improved USB Type-C and Thunderbolt 3 support, better game performance, as well as expanded graphics support for Raspberry Pi 3 Model B/B+, Qualcomm Snapdragon 845, and the Intel Kaby Lake G processors with AMD Vega M graphics.
In addition to the above, Ubuntu 18.10 also comes with multi-cloud computing optimizations for the Server edition, including Kubernetes 1.12 with increased security and scalability. The secure Linux app store now includes 4,100 snaps published by 1,700 developers and supported across 41 distributions.
The (somehow) bad part is that Ubuntu 18.10 only gets 9 months of support, while the 18.04 LTS release will be officially supported until early 2023. If you are one of the early 18.10 adopters, please don't be shy and share your thoughts about this update in the comments section.