Debian 10 "buster" now available for download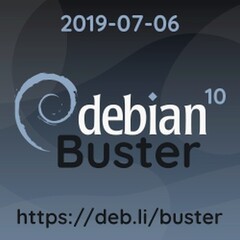 The latest stable Debian release is codenamed "buster" and comes at the end of a 25-month development period. Debian 10 will be supported for the next five years and comes with many updated packages, support for ten architectures — including older 32-bit PCs, as well as a wide range of desktop environments: Cinnamon, GNOME, KDE Plasma, LXDE, LXQt, MATE, and Xfce.
Working For Notebookcheck
Are you a techie who knows how to write? Then join our Team! Especially English native speakers welcome!
Currently wanted:
News and Editorial Editor - Details here

These are the main highlights of this new stable Debian build:
Support for the following desktop environments/applications: Cinnamon 3.8, Xfce 4.12, MATE 1.20, GNOME 3.30, KDE Plasma 5.14, LXDE 0.99.2, and LXQt 0.14.
More than 62 percent of the packages present in the previous release have been updated. These are some of the pieces of code included in Debian 10: Apache 2.4.38, Chromium 73.0, GIMP 2.10.8, LibreOffice 6.1, PHP 7.3, Ruby 2.5.1, Vim 8.1, and much more.
A total of over 59,000 ready-to-use software packages that were built from almost 29,000 source packages.
Support for ten architectures, including i386, x86-64, Motorola/IBM PowerPC, and MIPS.
Those who just want to take Debian 10 for a spin without installing it can do so by using one of the live images which can be found on this page. On the other hand, the installation images can be downloaded via BitTorrent — the recommended method, jigdo, or HTTP. Physical media from multiple vendors should become available in the coming weeks as well.