Thin bezels, under-display cameras, and foldables are overpriced stopgaps on the way to the post-smartphone paradigm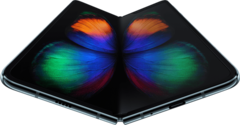 Views, thoughts, and opinions expressed in the text belong solely to the author.
13 years ago, when Steve Jobs showcased the original iPhone, a major paradigm shift was underway. The iPhone wasn't the first smartphone on the market (and the original 2G variant was arguably less flexible than many modern feature phones). However, for billions of users around the world, it redefined what a mobile phone was: not a telephone you stuck in your pocket, but a portable computing device with a 3.5-in window into the networked world out there.
Ever since the release of the iPhone and legendary Android devices like the HTC Dream, the original Galaxy S, and the Nexus One, there's been a sea-change in the way we do computing and where we do it. There's also been a remarkable shift in the demographics of computing. India and China together account for over one billion smartphone users.
The smartphone revolution is what's made so many key facets of our daily lives possible — especially so when much of the world remains under quarantine. Platforms like TikTok, Snapchat, and Instagram exist because of the mobility smartphones offer, not in spite of it.
However, 13 years down the line, we're long overdue for another paradigm shift. The smartphone format — the idea of a 5-in black slab — evolved in a very different digital environment from the one we inhabit right now. What were manufacturers trying to achieve back then with the smartphone paradigm? Are we able to effectively do the things we want today on smartphones?
Back in 2007, the idea behind the smartphone format was simple enough: a connected device that's complementary to your primary computing systems. Touch keyboards were never meant to replace actual keyboards as the input method of choice for content creation. Pinch, zoom, and rotate were supposed to help you view and make minor tweaks to your productivity workload, to fix typos in your PowerPoint, not to author it.
The problem is that in 2020, the smartphone is no longer a companion device. Apple's decision to switch to ARM hardware on Mac serves to underline the point: people are spending most of their digital time on mobile devices, both in terms of entertainment and in terms of productivity. This is a radical change from a decade ago when users used their desktop or laptop to scroll through Facebook and polish up a spreadsheet.
There's no question that smartphones have evolved. The issue is that they haven't evolved to better address today's use cases. Touch keyboards still limit input to 30-odd WPM. Console-quality gaming is still held back by mobile interfaces, with xCloud touch controls and the like acting as awkward stop-gaps. We still haven't figured out how to deliver a productivity experience on mobile that doesn't have you leaping at the first PC you can access.
Instead, smartphone manufacturers increase RAM on their flagship devices, beyond what you'd expect on a productivity-oriented PC. They double down on pixel density, even though there's next to no difference between a 400 PPI and 530 PPI panel. They remove bezels, then add them back in the form of notches. And, of course, they now let you fold your phone in two, a trick the Motorola Razr did just fine circa 2005. All of this, of course, is accompanied by near-annual price hikes. Functionally, however, there is precious little that a US$1500 smartphone can do that a US$300 can't do, apart from folding in half.
Between affordable 4G and 5G connectivity, the rise of cloud computing, and an entire generation of Asians, Africans, and Latin Americans accessing connectivity for the first time, the time is ripe to move beyond the smartphone paradigm. But where do we go from here?
Smartphone manufacturers themselves need to invest significantly towards researching and developing solutions for a post-smartphone paradigm.
Wearables and smartwatches are an important first step. However, input constraints limit what can be accomplished with the current crop of smartwatches: you can only dictate so fast on an Apple Watch.
What about smart glasses, though? Google Glass enjoyed 15 minutes of fame before descending into obscurity. Microsoft's Hololens, presented as the "new big thing," was likewise scaled back to a niche product for enterprise users.
The potential is most certainly there, though. Patent registrations indicate that Apple's working on a consumer-focused smart glass with a profile not that different from regular sunglasses. At the bleeding edge, Mojo Vision's smart contact lenses project an AR experience right to the eyes. With semiconductor fabs pushing past the 5nm point, we have the underlying infrastructure to build post-smartphone devices. The question, then, is which company is going to take the first step and when?
Views, thoughts, and opinions expressed in the text belong solely to the author.
I've had a passion for PC gaming since 1996, when I watched my dad score frags in Quake as a 1 year-old. I've gone on to become a Penguin-published author and tech journalist. Apart from working as an editor at Notebookcheck, I write for outlets including TechSpot and Gamingbolt. I'm the Director of Content at Flying V Group, one of the top 5 digital marketing agencies in Orange County. When I'm not traveling the world, gathering stories for my next book, you can find me tinkering with my PC.