The latest iPhone 12 renders count the new iPad Pro's LiDAR scanner in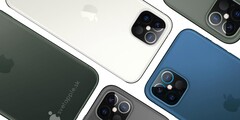 The blog SvetApple has just published revised iPhone 12 renders that incorporate every leak and rumor concerning these upcoming new devices. They include the idea that they may come with the ground-breaking LiDAR functionality debuted in the 2020 iPad Pro. This makes their camera humps into more cohesive-looking squares.
Apple is thought to stick with the square camera hump seen in the current iPhone series for its immediate successors. However, according to a new set of leak-based renders created by SvetApple, the contents of these rear-panel modules will at least evolve into a cleaner set-up rather than the triangular collection of lenses with a sprinkling of other components as they are now.
These new "iPhone 12s" will have 4 main sensors within these squares, laid out in a more logical 2x2 format. The one on the bottom right as depicted in these images, however; rather, it is the LiDAR scanner also seen in the brand new iPad Pro.
Therefore, SvetApple clearly now has the idea that the new iPhones will have the same ability to populate a user's camera-view with virtual objects as their tablet counterparts. Otherwise, the blog's new renders go with many pre-existing ideas circulating around Apple's upcoming 2020 mobile devices. This includes their new Navy Blue colorway and that they will persist in having notched displays into this new generation.