The latest build of MIUI may cause screen issues for some Pocophone F1 users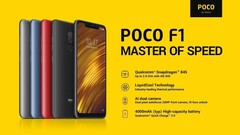 Xiaomi has released a new, official version of MIUI (10.3.5.0) for the Pocophone F1. This is normally great news, and would be in this case were it not for a sub-group of users who report problems such as screen freezing and ghost touch on their updated devices. The OEM has requested that affected owners send them their units for testing in relation to the issue.
Xiaomi has recently pushed a software update (MIUI 10.3.5.0) to its initial POCO-brand device, the Pocophone F1. This build could be said to be one of the last official global beta builds for this device to be released before the OEM shuts down the program that provided them forever.
Unfortunately, a number of Pocophone F1 users who have installed this update have reported screen freezing, input lag or ghost touch that had not been apparent before. Alvin Tse, Xiaomi's Head of Pocophone Global, has responded to these complaints in a Twitter thread.
In this communication, Tse publically acknowledges the issues. He goes on to ask affected users to consider sending their units back to Xiaomi, so that the company can conduct some internal testing on these MIUI 10.3.5.0 problems. This invitation applies to owners whose Pocophones have "touch issues only" (the update is also linked to speaker volume degradations).