The cut-price iPhone SE2 will arrive in 2020: Ming-Chi Kuo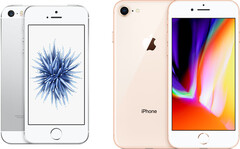 The latest leaked research note allegedly sent to TF International Securities by the analyst Ming-Chi Kuo indicates that Apple does have a second-gen SE in the works. It will apparently be released in the first quarter of 2020 and be "more affordable". It is also now said to assume a form-factor similar to the iPhone 8.
The blog MacRumors claims to have been privy to a new report written by the vaunted analyst Ming-Chi Kuo for the firm TF International Securities. It reportedly states that Kuo now believes that Apple will release the iPhone SE2 in the first quarter of 2020 (1Q2020). Should this projection prove accurate, the new device will prove budget-friendly on a number of levels.
Kuo apparently notes that the second generation of the SE series will be "more affordable". This may be because Apple intends to limit the expense on its development and styling as much as possible. According to the alleged research note, it will be not much more than an iPhone 8 chassis with possibly refreshed internals. The SE2 will apparently retain all of this "classic" iPhone esthetic, right down to the 4.7-inch display.
This may be a plausible prospect, as the original SE was produced along much the same lines after all. Kuo has indicated that this may make its successor as attractive as possible to those who have yet to upgrade from the iPhone 6 or 6 Plus. Given that there are an estimated 100 million of these consumers out there, it may make sense that Apple has chosen this path of least resistance to their cash the coming year.