The company behind ProtonMail has been awarded €2 million from the EC to develop encrypted services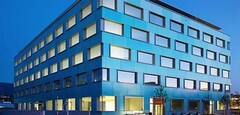 Proton Technologies AG, the company behind the popular encrypted email service ProtonMail, has issued a press release to reveal it has been awarded €2 million in funding from the European Commission (EC). The company plans on using the money to develop encrypted services such as its ProtonDrive file storage application.
The EC, an institution that is part of the European Union (EU), has given a grant of €2 million (US$2.25 million) to Proton Technologies to aid work on its ecosystem. Proton is known for developing ProtonMail, which offers end-to-end encryption for users. An estimated 10 million people use ProtonMail, and the company is now busy developing its privacy-based ProtonDrive for secure data storage.
Proton Technologies was founded in Geneva, Switzerland, and its appropriately named ProtonMail service was created at the CERN research facility, which is world-famous for its proton-acceleration experiments. ProtonMail is in good company: The World Wide Web was invented by Tim Berners-Lee at CERN.
The EU has often championed online privacy rights: Google was recently fined €50 million (~US$56 million) for violating privacy rules. As the Proton press release points out, the company's work on encrypted services and data privacy aligns with the EU's current policies. Proton's servers and headquarters are based in Switzerland, which puts the company outside of direct US and EU influence.