The Exynos 990 is actually the Exynos 9830, and it will debut on the Galaxy S11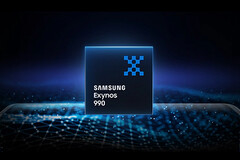 It's been fiercely debated which SoC would be on Samsung's next-gen Galaxy S11 flagships. Most claimed the newly launched Exynos 990 would have the honor, while others expected Samsung to launch another SoC, the Exynos 9830. Apparently, though, the Exynos 990 and Exynos 9830 are one and the same.
Samsung launched the Exynos 990 last month, and the announcement was followed up by a bunch of speculation about the SoC's positioning in the company's product line. While most assumed the SoC would power the next-gen Galaxy S11, we were rather skeptical. It would seem, however, that the "Exynos 990" will actually be the chipset on the Galaxy S11 phones.
We assumed that the Exynos 9830 would be Samsung's next-gen flagship SoC, and that isn't false either. Apparently, the Exynos 990 is actually the Exynos 9830. Samsung's official website tells us as much, as the Exynos 990's part number is "S5E9830".
The Exynos 990 is built on a 7nm EUV process. It will feature ARM Cortex-A76 and Cortex-A55 cores, with Samsung's custom Mongoose 5 cores doing the heavy lifting. On the graphical side of things will be a Mali-G77. There's support for UFS 2.1 and UFS 3.0 storage, LPDDR5 RAM, a 108 MP selfie camera, 108 MP rear camera, and 8K 30fps video recording.
We expect to see the Exynos 990 pushed to its limits on the Galaxy S11 phones.