"Space Zoom" & "Hubble": Samsung Galaxy S11 cameras become powerful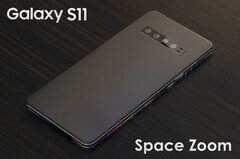 Evidence now points to the next Galaxy S series featuring "far-reaching" camera revolutions. The probably February or March 2020 bound devices look set to follow the likes of Huawei, Oppo and Xiaomi in including powerful zoom capabilities, if the codenames "Hubble" and "Space Zoom" are anything to go by, anyway.
We are still in the early phases of the Galaxy S11 series rumor mill, concrete or otherwise. While we are yet to see any official-looking renders appear, two codenames point towards the series featuring some hefty camera technology. The Galaxy S10 Plus became one of the standard-bearers of smartphone cameras this year. However, Samsung does not currently offer a flagship smartphone with the same zoom capabilities as Huawei, Oppo and Xiaomi do.
Firstly, GalaxyClub unearthed the codename "Hubble", which shares its name with an eponymous telescope that probably more than just astronomers know about. While some have speculated that Samsung plans to include the 108 MP camera sensor that has recently featured in the Xiaomi Mi Note 10 series, we would not bet on that one quite yet. The South Korean company typically equips its Galaxy S series with smaller megapixel primary camera sensors, while its ISOCELL Bright sensors end up in non-Samsung handsets. Regardless, codenaming your next flagship after a famous telescope is probably more than coincidental.
Secondly, LetsGoDigital has found that Samsung has filed a trademark with the European Union Intellectual Property Office (EUIPO) for something called "Space Zoom". The South Korean only registered this on November 6, which LetsGoDigital reports is a software package that can zoom in on a subject losslessly.
Piecing both rumors together, then could the Galaxy S11 series combine the telescope lens of a Huawei P30 Pro with the astrophotography mode of the Pixel 4 series? Perhaps, but in this iterative age of smartphone releases, a huge jump in camera technology like this seems unlikely.