The '5G Samsung Galaxy S10' may not have Snapdragon variants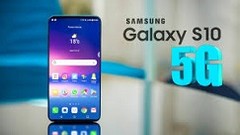 Samsung is rumored to be preparing multiple varieties of its upcoming S10 series, one of which will be 5G-enabled. The well-regarded leakster Roland Quandt believes that, if this SKU is to exist, it will come with the new Exynos 9820 chipset only, to go with its Samsung 5G-NR modem.
There are many rumors abounding about the Galaxy S10 already. Despite the confirmed existence of foldable phones in the works at Samsung for the very near future, this line is still likely to be the company's main smartphone flagship. Furthermore, it is speculated that the Galaxy S10 will come in more versions than the usual 2 (the S10 and S10 Plus) this time around. One of them is purported to be the S10 (X) 5G.
However, it now seems that this potential 5G flagship will be powered by Samsung's own in-house processor. This is the Exynos 9820, a new 8-nanometer chipset with numerous advantages over its predecessor and a neural processing unit (NPU) for dedicated AI functions. Samsung flagships are usually powered by either top-flight Exynos processors or their Qualcomm Snapdragon counterparts, depending on the region in which the phones are sold. However, the tipster Roland Quandt has indicated that this will not be the case for the 'S10 5G'.
Quandt's reasoning for this position is that Qualcomm's own 5G modem, the X50, may not be compatible with the Exynos 9820; therefore, Samsung is sticking to its own hardware to support the new mobile data standard. However, Samsung may simply not want the competition for its own 5G-New Radio (5G-NR) modem, which is yet to be officially released.