Samsung's most futuristic display yet may have been leaked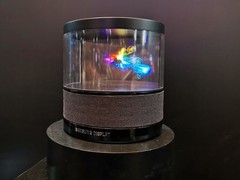 Samsung is one of the world leaders in curved display technology, and is to take flexible OLEDs even further with its upcoming foldable phone range. However, IceUniverse believes that the company has even more of the same up its sleeve; a 360-degree type of transparent display.
Samsung is strongly associated with curved display technology, and seems to offer new and improved monitors and TVs with this feature by the year. The company can do this due to the flexible nature of OLEDs, which only need more sophisticated types of backing and structural support in order to be more bendy in everyday use.
For example, Samsung is now very close to releasing a line of foldable phones, which may go under names such as the Galaxy X. The Korean electronics giant also reported a 5.5% increase in flexible-OLED revenues for the third quarter of 2018. However, the well-known tipster IceUniverse believes the company can take screen tech even further. The leaker's Twitter account now shows an image of a 360-degree, or cylindrical, OLED, which was mainly transparent except for a colorful image.
This type of OLED could have many applications, from multi-user screens to correcting blind spots created by central pillars in car windscreens. However, IceUniverse speculates that the 360 OLED in the tweet is meant for a speaker; and, of course, there is no reason why it could not also be a smart speaker. Therefore, it seems the screens of the future could have a lot less bezel and a lot more blockbuster movie looks going on.