Supposed Steam Deck killers are missing the point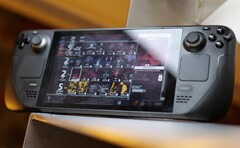 Views, thoughts, and opinions expressed in the text belong solely to the author.
Handheld gaming is hardly new. But ever since GPD started bringing pocket PCs to Indiegogo, and the Nintendo Switch blew the portable gaming space wide open once again, the handheld market has never seen this much competition.
Ayaneo has a dizzying array of different models; Asus has but one, in its ROG Ally, wielding the backing of a household name of PC gaming. Yet all of these - and many, many more - all fall behind the Steam Deck in popularity and success. First and foremost is, of course, the sheer mindshare that Valve's platform has amongst the PC gaming community and the momentum it imparts to such a product, but it's already proven that the Steam branding can't carry a whole new product category on its own.
So, then, what does the Steam Deck itself do right?
The hardware of the Deck is probably the weakest aspect of it. An 800p LCD with less than 70% sRGB coverage, an APU with previous-generation CPU and GPU architectures, and a decidedly chunky body are hardly standouts compared to the competition - although Valve's openness with the Deck has spawned a whole ecosystem of accessories and mods for it.
The price is rarely the most exciting thing to talk about in the technology space, but it really is worth mentioning; seriously undercutting the US$699 Ally, never mind GPD's Win Max series pushing over US$1,000, is a big factor for handhelds that are ultimately going to be secondary or tertiary devices. Unlike pure hardware manufacturers, Valve's primary revenue stream comes from Steam - it can afford to not make large profit margins on the hardware itself.
The software is, perhaps, the key. Valve's backing ensures that the Steam Deck benefits from a robust support system, and the commitment to verifying game compatibility lends itself well to the plug-and-play "it just works" experience of a console rather than the tweaking, tuning and troubleshooting of PC gaming - although the Linux-derived SteamOS can certainly be adjusted and modified for those who want more control.
So, modest but capable hardware, and accessible pricing, enabled by scale and software sales. The modern handheld market might have had its roots in the revival of pocket PCs, but it's by far at its strongest when it's most console-like.