Super Nintendo Switch arises from the ashes of the Switch Pro with 4K support, DLSS upscaling, PS4 power, and even an alleged 2021 launch according to new rumors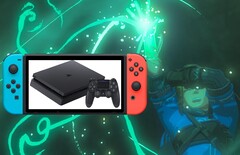 The Reddit and ResetEra forums have been buzzing with new Switch-related leaks mainly thanks to the words offered up by two ResetEra users in particular: NateDrake and z0m3Ie. We already reported on the presumed Nintendo Switch Pro name becoming Nintendo Super Switch instead, and now these two known posters have added a few spicy details about the Super Switch. For instance, z0m3Ie insists that the Switch successor will "be more capable than the PS4 before DLSS". Nintendo isn't going to try to compete with either the PS5 or Xbox Series X in terms of raw power, but a Super Switch on the performance level of a PS4 is certainly a mouth-watering thought for fans.
DLSS (or even DLSS 2.0 as has been suggested before) "functionality" is apparently part of the upcoming Super Switch package, which allows for visual output upscaling but without frame loss during gaming sessions. Unsurprisingly, 4K has been mentioned yet again, which has been often cited as showing how the Super Switch would be definitely an upgrade over the current model rather than just a simple refresh. Along with the frequently rumored aspects of the Nintendo console, there were some new tidbits, such as the portable mode having a "nice upgrade" and z0m3Ie doubling down on the PS4 comparison with the statement: "we should just treat it [Super Switch] like a PS4 with DLSS and a more capable CPU".
While NateDrake is insistent on the Nintendo Super Switch having DLSS and 4K support, the poster was a little more restrained in regard to a potential launch date:
For the hardware? Let's say I'm confident it gets announced this year. A delay to 2022 would need to be communicated in the next few months, as dev kits and third-party partners begin to plan software for the device. As of this very moment (Feb 18, 2021), I believe the hope remains for a 2021 launch.
If this is accurate, then we can start to expect more detailed leaks concerning the Super Switch soon, although being comparable to the PS4 in raw power and utilizing Nvidia's DLSS tech - and possibly even being released this year – certainly help make the rumored Nintendo console already sound like a tantalizing treat.
My interest in technology began after I was presented with an Atari 800XL home computer in the mid-1980s. I especially enjoy writing about technological advances, compelling rumors, and intriguing tech-related leaks. I have a degree in International Relations and Strategic Studies and count my family, reading, writing, and travel as the main passions of my life. I have been with Notebookcheck since 2012.