Switch vs Switch Pro: Simulated comparison shows how games could look on Nintendo's next-gen console but gamers just really want 1080p at 60 FPS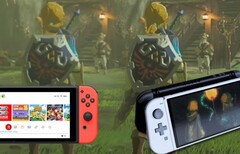 A great video clip has been produced by YouTube channel ElAnalistaDeBits that has attempted to show a comparison of classic games and even upcoming titles running on the Nintendo Switch and the potential Nintendo Switch Pro console (via simulation). The poster has made it clear that they only want to show what a Switch Pro could possibly manage in terms of graphics output and smoothness when compared to the original Switch console. There have been other videos produced in the past that have used similar upscaling techniques to show what could be possible if a game was running at a higher resolution and higher FPS rate.
According to an introduction to the clip, "AI scaling tools, editing programs, and other external hardware" were utilized to conjure up the Switch Pro simulation. Throughout the video there are side-by-side comparisons with numerous classic titles, such as Zelda: Breath of the Wild and Super Smash Bros. Ultimate, and there are even some upcoming games like Zelda: Breath of the Wild 2 and Splatoon 3 included. While some of the game comparisons only seem to show minor visual enhancements, it's clear to see in others just how much sharper and better quality the Switch Pro simulation is.
The idea of the video is to simulate what the result could be if the Switch Pro utilized Nvidia's DLSS technology to upscale 1440p resolution to 2160p. However, it's clear to see in the YouTube comments, and those from other gaming forums, that many gamers would be very satisfied if Nintendo delivered a solid 1080p at 60 FPS gaming. The current Nintendo Switch is capable of 1080p output (but only when docked) and there are plenty of games it can run at 60 FPS both when docked and in portable mode. More will be expected from a next-gen console from Nintendo, though.
My interest in technology began after I was presented with an Atari 800XL home computer in the mid-1980s. I especially enjoy writing about technological advances, compelling rumors, and intriguing tech-related leaks. I have a degree in International Relations and Strategic Studies and count my family, reading, writing, and travel as the main passions of my life. I have been with Notebookcheck since 2012.