Sony announces a new, business-focused digital paper tablet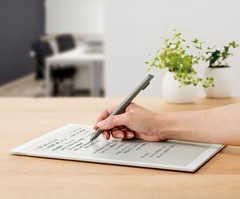 Sony's new tablet features improved specs compared to its predecessor and aims for business costumers. The electronic ink device only works with PDF files and is not meant as general-purpose tablet.
Apple's new iPad and Microsoft's rumored Surface Pro 5 may be the talk of the tablet world right now, but that isn't stopping Sony from unleashing its own unique creation into the mix.
The Japanese company has just announced a new digital paper tablet, called the DPT-RP1. The tablet's name underscores its serious focus; this is a device meant for professional as opposed to leisure use. Only PDF files are readable by the DPT-RP1, but Sony's new Digital Paper app makes it easy to convert other file types to that format.
The DPT-RP1 can write as well as read. According to Sony, the device's "non-slip" E-Ink display provides "a feel like writing on paper" when jotting down notes or filling out forms with the included capacitive stylus. Additionally, anything written or drawn on the display can be saved and transferred wirelessly to a different device or even printed from a PC.
Sony's new tablet features improved specs over its predecessor, the DPTS1. The DPT-RP1 has a 13.3-inch screen with a 2200x1650 display resolution, a noticeable upgrade from the DPTS1's 1600x1200 resolution. It is powered by a Marvell IAP140 64-bit quad-core processor, designed for use in low-power electronics such as e-readers or IoT devices. 16 GB of storage are included—enough room for about 10,000 1 MB PDF files, according to Sony's estimates. Other features include dual band WiFi, Bluetooth, and NFC. The tablet's battery has an estimated three weeks of duration on a single full charge.
For now, the DPT-RP1 is a Japan-only product. The release date and price are currently unavailable, listed as "coming soon" and "open," respectively.