Shuttle announces new compact XPC series supporting gen 8 desktop Intel CPUs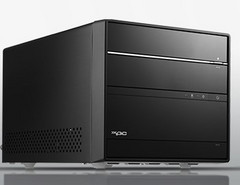 The XPC SH370R6 supports Coffee Lake CPUs up to i7-8700K with max 95 W TDP, plus there's enough room for up to 64 GB of DDR4-2666 RAM, 4 SATA bays and even a PCIe 3.0 16x slot for discrete GPUs. While it is not the most compact barebone out there, the new XPC SH370R6 can easily replace the usual desktop PCs or even more cumbersome workstations.
Taiwanese barebones maker Shuttle is finally updating its compact PC lineup with support for Intel's 8th generation desktop CPUs. The XPC "cubical" models were chosen for the upgrade as they have slightly more room and can accommodate CPUs up to the six-core i5/i7 8xxx series.

Designed for home/office/workstation use, the new XPC SH370R6 barebone comes with four SO-DIMM slots that allows users to add as much as 64 GB DDR4-2666 RAM. Users can also choose between Celeron, Pentium, Core i3/i5/i7 processors based on the Coffee Lake architecture with max 95 W TDP for the LGA1151v2 socket. Gamers or graphics professionals can also add a dedicated GPU as there is support for one PCIe 3.0 X16 slot.

Other noteworthy features include:
• four SATA bays (including a 5.25-inch optical drive bay)
• two M.2 slots for WLAN adapters or NVMe SSDs
• one PCIe 3.0 X4 slot
• connector suite: 4x USB 3.1 SS ports, 2x USB 3.0, 2x USB 2.0, audio in/out, GbE jack, 2x DisplayPort 1.2, 1x HDMI 2.0
• 300 W power supply (500 W model available soon)
• size: 13 x 8.5 x 7.8 inches
• optional accessories: Wi-Fi/Blietooth module, RS-232 port

The XPC SH370R6 barebone retails for around US$300 and is available only in Europe at the moment, but only comes with the motherboard, PSU and cooling system.