Samsung prompts speculation that it could be bringing a third OS upgrade to the Galaxy S9 and Note 9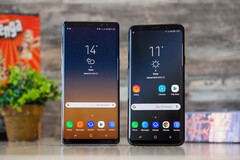 Samsung has come in for plenty of criticism about its software update policies. With the Galaxy S8 and Note 8 unlikely to ever receive Android 10, it has now emerged that the company may be bringing One UI 2.1 to devices as far back as the Galaxy S9 and Note 9. While not strictly a third OS upgrade, it would be a volte-face for Samsung.
Historically, Samsung only releases two OS upgrades for its smartphones, even if they are capable of running new versions of Android. That may be on the verge of changing, if a moderator's post on Samsung Community is to be believed. Currently only running on the Galaxy S20 series and the Galaxy Z Flip, One UI 2.1 is apparently making its way to the Note 10 and Galaxy S9.
This would be significant for two reasons. Firstly, while One UI 2.1 is an incremental update, Samsung did not upgrade older devices to One UI 1.1 or 1.5 last year. One UI 2.1 does not introduce many changes that would be applicable to older hardware, but Screen Zoom and Samsung Quick Share would be.
Secondly, it could represent Samsung switching to a third OS upgrade for older handsets. On the one hand, One UI 2.1 is not an Android OS upgrade, but it is an upgraded version of One UI. Either way, Samsung releasing One UI 2.1 for older devices is an encouraging sign that the company is taking software updates more seriously.