Samsung joins OPPO in bidding adieu to Blu-ray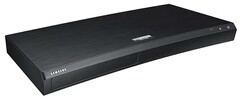 Samsung seems to have exited the 4K Blu-ray market in the US citing a niche market and current domination of Sony and Panasonic. Samsung became the second company after OPPO to stop making both 4K and FHD Blu-ray players coming in the wake of increased penetration of online streaming services and HDR format incompatibilities between the industry's Dolby Vision and Samsung's HDR10+.
Working For Notebookcheck
Are you a techie who knows how to write? Then join our Team! Especially English native speakers welcome!
Currently wanted:
News and Editorial Editor - Details here

Samsung is following OPPO's footsteps in exiting the Blu-ray player market in the US. The company has independently confirmed to both Forbes and CNET that it is no longer working on new models and will also stop producing 1080p players.
CNET quotes a Samsung spokesperson saying, "Samsung will no longer introduce new Blu-ray or 4K Blu-ray player models in the US market."
Speculation about Samsung's withdrawal from the Blu-ray player market started doing the rounds when no new models were displayed at IFA 2018 or CES 2019. The UBD-M9500 was the last high-end 4K Blu-ray player but even that appears to have been scrapped according to Forbes.
Blu-ray edged out the rival HD-DVD standard in the disc format wars almost 12 years ago. However, current 4K Blu-ray players have lagged behind the industry when it comes to format support. Many players lacked support for the Dolby Vision HDR standard and Samsung on its part preferred using its own HDR10+ format. Currently, only a few players are capable of supporting both Dolby Vision and HDR10+.
Another major factor could be dominance of Sony and Panasonic in this space. The market for 4K Blu-ray players is already niche and the availability of on-demand streaming services has further relegated these players only to a small proportion of discerning individuals. Forbes says DVDs still account for 57.9% of disc sales in the US with 4K Blu-rays at just 5.3%.
Although Samsung's exit from the Blu-ray player market is not a good sign, the format as such is still poised to continue for the foreseeable future. The only catch is that you are limited to offerings from just two major brands.