Samsung is being touted to almost completely revert to Exynos SoCs on the Galaxy Note 10 phones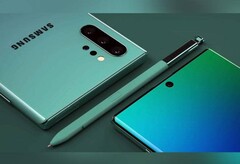 Samsung has generally offered its flagships in two flavors: Snapdragon in North America, Latin America, and China, and Exynos for the rest of the world. The Note 10 could see a paradigm shift, as word on the grapevine claims all Note 10 models, bar the Verizon ones, will be powered by an Exynos SoC, likely the Exynos 9825.
The launch of the Galaxy Note phones is just five days away and we've been hit with a shocking piece of news that no one expected. Apparently, virtually all Galaxy Note 10 models will be powered by Samsung's Exynos chipset.
Prior to this, in North America, Brazil, and China, Samsung sold its Galaxy S and Note phones with Qualcomm's Snapdragon SoCs. All other regions received devices powered by Samsung's in-house Exynos SoCs. According to the source report, however, Samsung will flip the board by selling Exynos models in North America. There's an exception to that, though: Verizon models will ship with a Snapdragon SoC as usual.
We're not sure what the rationale behind this could be. It could, perhaps, just be an attempt by Samsung to minimize reliance on Qualcomm? It wouldn't be without precedent either, as the Galaxy S6 was only released with an Exynos chipset.
There are upsides to a move like this, though. For one, Exynos models are better for community development, as they can usually be bootloader unlocked. Also, Samsung tends to support its Exynos devices for longer. Updates are also faster. On the flip side, popular community mods like Google Camera port aren't easy to achieve for Exynos devices. Qualcomm's flagship SoCs also have better real-world performance when compared to similar Exynos chipsets.