Samsung develops new colorway for Galaxy Note 10 line - and the Galaxy Buds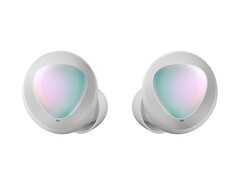 Some up-to-date renders of the Galaxy Note 10 are depicted as having an unfamiliar finish that appears as a gradient from pale purple to pale green. The latest rumors indicate that this is in fact an official color option, called Aura Glow. It may feature on the upcoming 2019 Galaxy Notes, as it now does on matching Galaxy Buds.
Samsung France has posted a new SKU for its wireless earphones, the Galaxy Buds. Whether this is a scheduled update or an unintentional leak is hard to divine. The new variants are in a colorway that, unlike the other shades previously associated with these wearables (black, yellow or white) does not have a name on the page in question, nor can they be purchased at present.
Nevertheless, they are displayed openly on the page, as if to represent new versions of existing products that may become available soon. The new colorway in question is a kind of holographic-looking gradient that has hints of both green and purple.
WinFuture has also picked up this potential new leak, and hypothesizes that it may be called Aura Glow. This site also now features images that suggest the new Buds come in a silver charging case. It is also now speculated that this new putative SKU exists in order to mark the release of the Galaxy Note 10 series, which, according to some prior renders, will also come in Aura Glow.
As the Galaxy S10e's Canary Yellow SKU has its own matching shade of earbuds, this theory makes sense. However, a simple rehash of existing peripherals does not bode well for a separate leak, one that hints at brand-new Samsung earphones and earbuds that could also have been released alongside this year's Galaxy Notes.