By Sylwester Cyba 10/27/09
Reasonable 17.3-incher for Professionals
HP primarily designed the ProBook 4710s to attract price-conscious businessmen of medium sized companies. Compared to its predecessors it was quite a bit redesigned. This especially applies to the absolutely new keyboard and the port arrangement. Read on to find out more about the pros and cons of our test sample, which we got straight from HP.
We would like to thank our Polish colleagues from notebookcheck.pl, who carried out the test and provided us with this review.
Case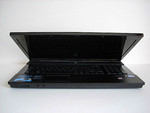 Contrary to other notebooks from Hewlett Packard the Probook 4710 offers a simple functional design without textured high-gloss lids. This results in an elegant, but, plain look, which reminds on the HP Compaq nx family of earlier days. Nevertheless, the lid got a black (Noir) high-gloss finish.
Although the dark colors and the square edges of the closed laptop are far from being eye-catching, this notebook appears to be robust and compact at the first glance. However, appearances are deceptive.
Once the laptop is open, you'll notice that the upper side is divided in three parts. First of all, the innovative keyboard attracts attention by its single key layout and the glossy surface of the keyboard area. In contrary, the part in front of the keyboard got a matte surface. Nevertheless, it is equally prone to fingerprints and smudge as the glossy parts. The third part, above the keyboard, houses the loudspeakers, the power switch, and the HP QuickLook (Instant-On operating system) button and is completely designed as speaker grill.
Besides the non-uniform design, also the quality of the case does not completely meet our expectations. Lifting the base unit at the right corner or applying medium force there, you'll hear an annoying noise. The same is true for the central area of the loudspeaker grill. At least, the keyboard does not give too much. Quite the contrary, the pressure is more or less evenly spread, whereas the area of the F-G-H-keys springs most.
The display is adapted to the base unit by strong hinges, which are able to stably support the screen in any position. Even when typing energetically the screen does not luff. In return, the hinges are rather stiff. Nevertheless, they cannot completely prevent the notebook held upside down on the base unit from opening. Furthermore, you sometimes hear a frictional noise in the right hinge when changing the opening angle.
Unfortunately, HP did it without easily accessible maintenance openings. You won't even find a louver at the bottom side. It is only possible to insert and remove the battery there. Fortunately, this sits firmly and does not wobble.
Equipment
The HP Probook offers a base connectivity including all important interfaces. Among others it offers four USB-2.0 ports, a VGA-out, and an HDMI-interface for all-digital video and audio transmission.
In case you need further connectivity, HP also offers a USB docking station for the Probook 4710s. E.g., the compatible HP USB-2.0 docking station (FQ834ET) features a Kensington security slot, audio-in, audio-out, LAN (RJ45), a VGA-out and a DVI-D port for connecting an external screen. However, it does only support a single external display. Some users might miss sleep-and-charge support via USB. This would allow to charge mobile devices by connecting it to a USB-port of the turned-off laptop.
The port arrangement is a point of critique. Depending on the use, attached cables can restrict the available work space right as well as left of the notebook. The two USB-2.0 pairs are both in the front area of the edges. At the right the modem port follows, at the left the two video outs.
The Marvell Yukon 88E8072 PCI-E Gigabit Ethernet Controller provides for LAN-connections. The Intel WiFi Link 5100 AGN module, which also support draft-n, allows fast wireless communication. A modem port (RJ-11) is an option and can be quite useful in areas with poor infrastructure. However, its in vain to look for a built-in broadband modem. Still, you are, together with the 2MP web cam, quite well equipped for video conferencing via Internet.
Regarding operating systems the user is spoilt for choice. The test sample came with pre-installed FreeDos. By default, this notebook is offered with pre-installed Windows Vista Business 32-Bit and downgrade option to Windows XP. Furthermore, HP also lists Red Flag Linux, Windows Vista Business 64-Bit und SuSE Linux Enterprise Desktop 10 as compatible operating systems. We ran our tests under Windows Vista Home Premium 32-Bit.
One year pickup and return service including one year warranty for the main battery is the default warranty. Entitled HP Care Pack, HP also offers a number of warranty options. E.g., two years pickup and return service (HW-support) costs 106.- Euro.
Input devices
At once we liked the keyboard in single key layout with its rather flat keys. It does not only look good, this design also prevents dust and dirt from penetrating into the inside.
Because of the inter-key gaps the full-sized keyboard appears to be very spacious. Each key is 15 millimeter x 15 millimeter big. Due to the short key travel we needed some adaption time before we could touch type error-free. In order to match the design the arrow keys were highly shrunk. So, arrow up and arrow down have together the same depth than the space bar.
Otherwise the keyboard conforms to a standard layout with well-arranged key groups. We especially appreciated the separate number field, which is also full-size without standard size number keys.
Furthermore, we were pleased by the quiet tapping. That is except of the backspace key, which was rather loud.
In addition, we were in general also satisfied with the traits of the touchpad. It perfectly matches the design. Furthermore, the matte surface of 80 millimeter width and 45 millimeter depth, feels nice to the touch and features good gliding traits. Moreover, its precision convinces and it offers an optically marked vertical scroll area.
However, the touchpad buttons could not convince, because of their unusual place of the pressure point, which is located in their front area rather than in their center. Besides, the left button is louder than the right. We also missed a simple way for deactivating the touchpad, e.g., by Fn-key combination or hotkey.
Display
Equipped with a 17.3 inch glare-type screen the HP Probook 4710s offers a native resolution of 1600x900 pixel in cinema-friendly 16:9 aspect ratio. The LED back-lit display scores with its even and bright illumination. This somewhat alleviates the negative effects of the glossy surface, i.e. disruptive reflections. Nevertheless black appears saturated. Compared to the Asus N70SV (standard profile) the colors of the HP Probook 4710s appear more true-to-life, deeper, and sharper.
Due to the generous horizontal viewing angles, more persons can look at the screen at the same time without problem. Regarding vertical viewing angles, the Probook 4710s is on par with its competitors. Even a small vertical change to the optimal viewing angle alters the image, so, you'll need to frequently adjust the opening angle.
Performance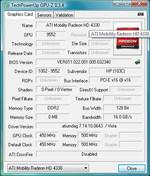 The ProBook 4710 utilizes a relatively new Penryn processor, which is also used in some budget notebook, i.e, an Intel Core 2 Duo T6570. With its 2 MB L2-Chache and 800 MHz frontside bus it can offer a good application performance.
An ATI Mobility Radeon HD4330 is responsible for the graphics. This is a discrete, entry-level graphics card, which can cope well with not too demanding 3D-tasks. However, there are better solutions available for 3D-intensive applications or even current computer games. The built-in HD 4330 is only equipped with DDR2 memory as video memory. So, you have to accept a slightly lower graphical performance in favor of the price. Further informations regarding graphical performance is available in our article "Computer Games on Laptop Graphic cards" and in or "Mobile Graphic Cards - Benchmark List".
Two Gigabyte DDR2-800 RAM and a WD Scorpio Blue hard drive from Western Digital with a gross capacity of 250 Gigabyte complete the list of performance-relevant components.
3DMark 03 Standard

7411 points
3DMark 05 Standard

5423 points
3DMark 06

2777 points

Help
PCMark 05 Standard

5134 points

Help
Cinebench R10
Settings
Value
Shading 32Bit

3152 Points

Rendering Multiple CPUs 32Bit

4282 Points

Rendering Single 32Bit

2314 Points
WDC Scorpio Blue WD2500BEVT-60ZCT1
Transfer Rate Minimum: 31.5 MB/s

Transfer Rate Maximum: 68.5 MB/s

Transfer Rate Average: 53.3 MB/s

Access Time: 16.8 ms

Burst Rate: 93.6 MB/s

CPU Usage: 2.5 %

Emissions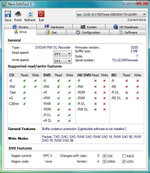 System noise
In mains operation and with active energy saving profile, you'll just here a silent humming of 39dB(A) under low load. Increasing load, the 4710s can sometimes also get loud: For three to four minutes it blows warm air trough the louver and gets quiet again afterwards. In this kind the notebook's noise level raises and falls again and again.
A BIOS option allows to change the fan control. However, actually, we could not observe clear differences.
Furthermore, you can hear a the power adapter squeaking in very quiet environments. However, this will hardly be audible in everyday life.
Noise Level
Idle

34.8 / 35.3 / 39.5 dB(A)

DVD

49.3 / 50.5 dB(A)

Load

43.8 / 46.7 dB(A)




30 dB
silent

40 dB(A)
audible

50 dB(A)
loud

min:

, med:

, max:

(15 cm distance)
Temperature
The maximum temperature of 40°C at the top was measure in the front middle area, just next to the touch pad, where the right hand rests. Fortunately, the temperature stays with 34.5 degrees Celsius in the green.

Due to a maximum of about 39 degrees Celsius, a use at the top of the lap is not recommended. However, also weight and size of the 17-incher militate in favor of desk top use.

The CPU's temperature doesn't exceed 35°C in normal use. However, some really demanding games can force it to reach a maximum of 48-49°C. At the same time, the GPU gets a little bit hot at roughly 72 degrees Celsius. The HDD under load remains at about 48-49°C. Altogether these values explain the high surfaces temperatures pretty well.
(+)
The average temperature for the upper side under maximal load is 28.9 °C / 84 F, compared to the average of 29.5 °C / 85 F for the devices in the class Office.
(±)
The maximum temperature on the upper side is 40.4 °C / 105 F, compared to the average of 34 °C / 93 F, ranging from 21.2 to 62.5 °C for the class Office.
(-)
The bottom heats up to a maximum of 45.8 °C / 114 F, compared to the average of 36.6 °C / 98 F
(-)
The palmrests and touchpad can get very hot to the touch with a maximum of 40.4 °C / 104.7 F.
(-)
The average temperature of the palmrest area of similar devices was 27.9 °C / 82.2 F (-12.5 °C / -22.5 F).
Speakers
In general a high-quality sound is not that important for a business laptop. And actually the 4710s is not equipped with high-quality loudspeakers from a well-known manufacturer. Because of there location above the keyboard at least the maximum volume is alright. Furthermore, despite lacking bass and depth, the sound scape meets the requirements of business use. You are well-served with the built-in loudspeakers for playing movies or undemanding background music. Furthermore, they are also sufficient for presentations in a medium-sized room.
Battery life
Equipped with a 8-cell battery with 63 Wh (4200 mAh) this laptop achieves a decent battery life. At least you can intensively browse the Internet via WLAN for about three and a half hours with energy profile and about half the maximum brightness.
In the DVD test with about 80% of the maximum brightness and deactivated WLAN, the battery runtime decreases by about one hour. Indeed, two and a half hours are still sufficient for watching most Hollywood films.
If you run the notebook under full load and at maximum brightness with all wireless modules enabled, you will empty the battery after one and a half hours.
To summarize, the battery runtime is quite good for a notebook of its size with 35 Watt Core 2 Duo CPU and discrete graphics adapter.
Power Consumption
Off / Standby

0 / 0 Watt

Idle

14.9 / 26.6 / 45.6 Watt

Load

31.1 / 53.6 Watt



Verdict
Basically HP wants to attract price-conscious business customers who appreciate reliability and functional design with the Probook 4710s. Its pros are an excellent keyboard and a very bright and evenly illuminated LED screen. Unfortunately the reviewed notebook was equipped with a glare-type (glossy) display. For many users this might be an important criterion against a permanent professional use. Fortunately HP also offers models with matte display.
Anyway, size and weight of this 17.3-incher hint on being designed for desk top usage. Furthermore, the temperature emissions advise against a use on the lap and the system noise is probably striking in quiet environments.
Its Core 2 Duo T6570 CPU and the ATI Mobility Rateaon HD 4330 graphics card provide a good performance for office applications and undemanding 3D tasks. Likewise you can be satisfied with the battery life.
Overall, the Probook 4710s proves to be an interesting bundle for not much money. However, because of the reflecting display, the test sample is rather an entry-level multimedia device. Performance and connectivity (HDMI) would also fit.