Razer finally reduces both bezels and bling on their Razer Blade Stealth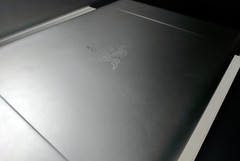 Razer is targeting the boardroom over the livingroom with their new gunmetal grey finish for the Razer Blade Stealth ultrabook, doing away with the RGB backlighting and glowing green logo. Instead of huge bezels with a smallish 12.5-inch screen, the new Stealth will just have regular ones with a 13.3-inch display in both QHD and QHD+ resolutions. The new Stealth is selling for US$300 more than the previous generation.
After Razer's first ultrabook, the Blade Stealth, was announced in late 2015, it faced criticism on a few accounts: battery life, heat, and huge bezels. In late 2016, the Kaby Lake update to the Stealth brought better battery life and thermals, but the bezels were just as big (or the screen remained just as small, if you look at it that way). This E3, Razer has revealed they are upgrading the Stealth with a 13.3-inch QHD or QHD+ display and a more low-key gunmetal-grey finish that also does away with the glowing green plastic logo in favor of a more mature look.
On release, Razer CEO Min-Liang Tan defended the choice to put a relatively small screen with such enormous bezels in the Razer Blade Stealth on his Facebook page in early 2016:
"Razer Blade Stealth's 4K display is specced at 100% Adobe RGB (with a stunning Delta-E of less than 1) which makes it the most color accurate panel in the world today for sub 15" Ultrabooks. The thin bezel screens used in the Dell XPS 13 is pegged at about 60% and the displays on the Macbook Airs are about 50%". He continued, "so there you have it - if you want the best screen in the world - you've got it on the new Razer Blade Stealth. If you prefer an inferior screen with a thin bezel, there are other Ultrabooks out there - the choice is yours!".
The 13.3-inch display is touted as 100 percent sRGB, which translates to about 76 percent Adobe RGB. This might explain why Razer is still offering the Stealth with its old 4K 12.5-inch screen that has 100 percent Adobe RGB coverage.
The other hardware remains unchanged, but the price for the 13.3-inch model will begin at an increased US$1400. That will get you an i7-7500U, 16GB RAM, and a 256GB SSD. The updated Stealth is expected to ship in July.