Razer Phone 2017
Specifications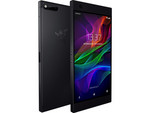 Pricecompare
price: 79%, performance: 91%, features: 85%, display: 91% mobility: 84%, workmanship: 80%, ergonomy: 81%, emissions: 98%
Reviews for the Razer Phone 2017
Foreign Reviews
Comment
Model: Razer is well known for its gaming laptops and peripherals. According to the press release published at press.razerzone.com, razer has acquired the majority of the assets of the phone-maker Nextbit Systems Inc in January 2017. The result is the Razer Phone (2017), which does not only want to attract gamers, but also other users interested in high-end hardware, an outstanding display, and excellent sound.
Design and Connectivity
Razer used the design of Nextbit's only phone, the Nextbit Robin. The Razer Phone is slightly taller (158.5 x 77.7 x 8 mm vs. 149.00 x 72.00 x 7.00 mm) and heavier than the Robin (197 g versus 150 g). The case is made of anodized aluminum. www.techradar.com writes, "The Razer Phone is square, blocky and, if we're honest, a little uninspired in the looks department." In a positive view, www.androidauthority.com thinks that the angular, sharp, blocky design makes the phone stand out from the crowd. A disadvantage is that the phone is not water resistant.
Larger bezels above and below the display make use in landscape orientation for easier gaming. The bezels also house the stereo speakers. www.techradar.com thinks that at 8 mm thick and with no rounded edges the Razer Phone feels a little chunky, and it is less comfortable to hold in portrait orientation. The tester from www.engadget.com writes that phone was pretty hard to use one-handed with her small hands and that its straight sides and sharp corners could dig into your hands. www.androidauthority.com agrees that the phone is just a bit too big to use comfortably in one hand. www.trustedreviews.com writes that the build quality is excellent and the phone emerged unscathed after a fairly unceremonious accidental drop at the phone's launch. www.digitaltrends.com complains that the body is slippery.
Razer specifies that the Razer Phone supports the following bands: GSM: Quad-band GSM UMTS: B1/2/3/4/5/8, LTE: B1/2/3/4/5/7/8/12/17/19/20/25/26/28/29/30/66, TDD LTE: B38/39/40/41, and TD-SCDMA: B34/39. In the US, this GSM-only phone will not work with CDMA carriers like Verizon or Sprint according to www.cnet.com. You can connect to Wi-Fi networks via 802.11 a/b/g/n/ac. Moreover, the phone supports Bluetooth 4.2 and NFC. Unfortunately Razer does not list the available interfaces on their website. The power/lock key sits on the right edge and also houses a fingerprint reader. The volume control is on the left side and the bottom side provides a USB-C port. Headphones can be connected via the included audio adapter with a built-in 24-bit DAC with Dolby Atmos support. According to techradar.com the lack of a headphone port is a potentially big stumbling block for some gamers, as dedicated gaming headsets generally utilize the 3.5 mm headphone jack.
Fingerprint sensor
According to www.engadget.com the fingerprint reader integrated in the power button on the right edge worked well. However, www.bmobiled.com reports that initially, some users complained that the fingerprint reader has stopped working and restoring factory settings has fixed the problem for some, but not everyone.
Camera
The rear camera features 12MP AF f1.75 Wide and 12MP AF f2.6 Zoom sensors, dual PDAF, and dual tone, dual LED flash. The simple camera UI lacks a manual mode. www.techradar.com evaluates, "Shutter speeds feel slow, and if you opt to enable HDR (which brightens dark areas in photos and improves low-light shots) there's a couple of seconds delay after you hit the capture button". Razer promised to upgrade the camera app with a software update. According to techradar the camera produces high-quality snaps with a good level of detail outside in good light, but colors tend to look a little muted. However, its low-light performance is more of a mixed bag. www.techradar.com thinks that considering the excellent snappers on similarly priced rivals the camera feels like a real weak point. www.engadget.com confirms that the Razer Phone's built-in camera is very basic, with the ability to toggle flash, HDR and a few extra features like a visual grid and a timer, but not much else and that the shutter speed is slightly slow. They agree that pictures taken in daylight were plenty sharp, but colors were a bit muted and low-light photos were hit or miss. The tester of www.androidcentral.com thinks that this is about the worst photographic performance he has seen in a $700 phone. In contrast, www.expertreviews.co.uk speaks of a decent camera. They say, "Outdoors, in brightly lit conditions, the Razer Phone's rear camera performs splendidly. It captures photographs with crisp details, and rich colours, while exposures are balanced and focus assured" and "Indoors in low light, it's perfectly capable, too. Noise levels were kept to a minimum, and the flash helped to pierce through the darkness. Objects did look a touch soft, and weren't as well-defined as the Pixel 2's efforts, but this is a superb rear shooter nonetheless."
The front camera is a 8 MP FF f2.0 model. According to www.engadget.com the front-facing 8-megapixel camera takes decent selfies, with bright colors and sharp detail.
Display
The Razer Phone comes with the world's first 120 Hz smartphone gaming display. The 5.7-inch LCD IGZO QHD (1,440 x 2,560) display is protected by Corning Gorilla Glass 3. The display is on a par with many of its competitors in terms of size and resolution. Razer used the LCD technology instead of AMOLED technology, since the first allows higher refresh rates and frame rates. Moreover, the Ultramotion technology syncs the screen's dynamic refresh rate. www.techradar.com reports that movement on the screen is silky smooth thanks to a 120 Hz variable refresh rate and a frame rate of up to 120 fps. The settings allow selecting the refresh rate you want for the display. Options are 60 Hz, 90 Hz, and 120 Hz. In www.techradar.com's opinion those without a keen eye on refresh rates will find the difference minimal. The settings also allow reducing the resolution to Full HD (1080p), which improves battery life according to them. Furthermore, they evaluate, "The screen is crisp, clear and bright, which ensures everything looks great, from text to pictures to video." However, www.engadget.com reports that the display is, unfortunately, hard to see in bright daylight. www.tomsguide.com measured an average brightness of only 310 nits and writes that the OnePlus 5, GS8 and Pixel 2 XL were all brighter, with marks of 384, 437 and 438 nits, respectively. Moreover, they think that options to change the color output or even a Reading Mode (a la OnePlus) to take further advantage of the screen's crisp text rendering would have been nice.
Hardware and Performance
The phone features a Qualcomm Snapdragon 835 SoC, an Adreno 540 GPU, 8 GB of dual channel RAM (LPDDR4, 1866 MHz), and 64 GB UFS storage. The storage capacity can be expanded with a microSD (class 10, 2 TB max.). It runs runs Android 7.1.1, but an update to Android 8 Oreo is supposed to arrive in Q1 2018. Razer has pre-installed the Nova Launcher. There is a selection of free themes available out-of-the-box. www.techradar.com didn't experience any degradation of performance, and the Razer Phone was able to keep multiple games running in the background as they skipped between them in the multitasking menu.
The phone has been purpose-built for gaming. So far there are only few games which profit from the 120 Hz screen right now. The three games downloading automatically – Titanfall Assault, World of Tanks Blitz, and Gear.Club – when the phone first connects to the web – take full advantage of it. They can be deleted if you do not want them. www.engadget.com confirms that the library of games that take full advantage of the display's power is still a bit limited. www.techradar.com reports that they played Titanfall Assault, Arena of Valor and Gear Club extensively during their time with the Razer Phone, and the gameplay was slick and the graphics impressively smooth. They say that games are automatically set to 60 Hz (lower than the 90 Hz default for the operating system), so you'll need to jump into the Game Booster app to up things to 120 Hz. Apart from refresh rates, the Game Booster also allows customizing the CPU speed and screen resolution, and toggle anti-aliasing. www.techradar.com would have liked to see a recording function in the Game Booster. The tester from www.engadget.com played a few graphically-intensive games like Alto's Adventure and Titanfall Assault and was very pleased with the rich colors and sharp detail. www.expertreviews.co.uk reports a native resolution onscreen result of 40 fps, and an offscreen score of 63 fps in GFXBench's Manhattan 3.0 test. The tester from www.tomsguide.com says that the frame rate did not dip below 62 fps and at its highest reached 74 fps in Dead Trigger 2 while the same title scored between 55 to 63 fps on his Galaxy S8 Plus.
However, the phone is not only apt for gaming. Thanks to its power, screen and audio skills, it is also well suited for movies and music.
Temperature
www.techradar.com reports that Razer has also used the fanless cooling technology found in its laptops in this phone, which stops the handset heating up too much and prevents hot spots, allowing for a more comfortable gaming experience for longer. They say that while the phone still gets warm during extended periods of gameplay, the heat is distributed evenly across the metal unibody, and the handset never reached an uncomfortable temperature during their time with it. According to www.engadget.com the phone gets a little hot if you are playing a particularly action-intensive game -- Titanfall Assault, for example -- but it cools down quickly. According to www.trustedreviews.com the handset is also one of the few they have tested capable of prolonged gaming sessions without seriously heating up. They describe that optimized thermals attach a heat pipe and two layers of thermal protection to the frame, creating a heatsink setup.
Battery Life
The Razer Phone features a 4000 mAh lithium-ion battery. It supports Qualcomm Quick Charge 4+, which charges the phone from 0% to 85% in an hour according to www.techradar.com. In order to improve battery life, you can reduce the display resolution to Full HD (1080p) and you should carefully consider which options to select in the Game Booster. However, www.techradar.com thinks that reducing the resolution is not necessary since the Razer Phone's battery lasted a full day with general use and default refresh rate of 90 Hz. They report that the Razer Phone lost 18% of its battery in their 90-minute Full HD video test with screen brightness on full, a refresh rate of 90 Hz and accounts syncing in the background over Wi-Fi. The tester from www.trustedreviews.com used the Razer as his main work and personal phone for more than a week, and generally saw it last a day and a half – pretty par for the course for a 2017 flagship. In www.expertreviews.co.uk's continuous video playback test, with the screen set to their standard 120 cd/m2 brightness and flight mode engaged, the Razer Phone reached just 10 hours 37 minutes before hitting zero.
Sound and Call Quality
The phone features front-facing stereo speakers and dual amplifiers. www.techradar.com calls them "the best speakers on any smartphone at the moment". They describe the sound as crisp and clear with some bass and very little distortion even at the highest volume and say that the iPhone 8 Plus sounded tinny in comparison. Moreover the phone is tuned with Dolby Atmos for Mobile. www.engadget.com says, "In short, the audio is loud, immersive and an absolute treat when playing games, watching shows on Netflix or just playing your favorite tunes on Spotify." In addition, an audio adapter with THX certified DAC is included.
The tester from www.androidauthority.com was told that he sounded normal when calling in a normal fashion where one's mouth is close to the microphone unit, but was hard to hear when using speakerphone at a distance. This is a disadvantage for video calls and the tester had to use Bluetooth headphones for these moments.
Summary
The Razer Phone focuses on mobile gaming. However, there are better alternatives if you also want excellent cameras. Its advantages are high-end hardware, 120 Hz screen, and excellent sound. The cameras fall behind models in similarly expensive phones and a headphone jack is missing. www.cnet.com evaluates that design, features, battery life and especially the camera aren't on par with the latest iPhone, Samsung Galaxy or Google Pixel. www.techradar.com summarizes, "The Razer Phone will appeal to enthusiast gamers who appreciate the ability to adjust frame rate, power distribution and resolution on a game-by-game basis, but for a wider audience it's likely to be less appealing." www.cnet.com would not call it the best gaming phone, since Apple's iPhones often get the latest and greatest mobile games first and the Razer Phone doesn't support a competent VR headset like Gear VR or Daydream while many top-tier Android competitors do. www.engadget.com thinks that if gaming is your highest priority, then the Razer Phone could be a solid option, but they advise to look elsewhere if you want a stylish phone with a good camera and a display that works great outdoors. www.androidauthority.com summarizes, "The Razer Phone is a great first attempt and might start new trends in the smartphone space, but its camera significantly holds the phone back.". www.androidcentral.com points out, "The Razer Phone is supposed to be a device for enthusiasts, but for it to make sense at the $699 price point, you need to be the kind of enthusiast who doesn't care about water resistance, a good camera, or display daylight visibility.". Alternatives include the Samsung Galaxy S8, Google Pixel 2 XL (more expensive), LG V30, and Huawei Mate 10 Pro.
Sources
press.razerzone.com/press-releases/nextbit-becomes-part-of-the-razer-family/
www.razerzone.com/eu-en/campaigns/120Hzmobilemasterrace
www.techradar.com/reviews/razer-phone-review
www.engadget.com/2017/12/01/razer-phone-review/
www.androidauthority.com/razer-phone-review-811436/
www.cnet.com/products/razer-phone/review/
www.trustedreviews.com/reviews/razer-phone
www.digitaltrends.com/cell-phone-reviews/razer-phone-review/
www.androidcentral.com/razer-phone
www.expertreviews.co.uk/razer/1406424/razer-phone-review-the-smartphone-that-changes-everything
www.tomsguide.com/us/razer-phone,review-4843.html
www.theverge.com/2017/12/22/16810080/razer-phone-high-refresh-screen-review
www.slashgear.com/razer-phone-review-real-mobile-courage-22511642/
www.bmobiled.com/razer-phone-reports-problems-fingerprint-sensor-camera-screen/
Press Review by Martina Osztovits
Qualcomm Adreno 540: Integrated graphics card in the Qualcomm Snapdragon 835 SoC. Slighly optimized architecture compared to the Adreno 530 but with higher clock speed due to the new 10 nm process. In the beginning of 2017 one of the fastest graphics cards for Android based smartphones.
Non demanding games should be playable with these graphics cards.
» Further information can be found in our Comparison of Mobile Graphics Cards and the corresponding Benchmark List.
SD 835: High-End SoC for smartphones that was introduced in early 2017 and manufactured in 10 nm LPE FinFET at Samsung. Integrates 4x Kryo 280 at 2.45 GHz (max) for performance and 4x Kryo 280 at 1.9 GHz (max) for efficiency. Furthermore offers an X16 LTE modem, ac-WiFi and a dual-channel 32-Bit 1866 MHz LPDDR4x memory controller. » Further information can be found in our Comparison of Mobile Processsors.
5.72":
This display is quite big for a smartphone but frequently used for smartphones.
Large display-sizes allow higher resolutions. So, details like letters are bigger. On the other hand, the power consumption is lower with small screen diagonals and the devices are smaller, more lightweight and cheaper.
» To find out how fine a display is, see our
DPI List
.
0.197 kg:
Only few smartphones are more lightweight than this.
Razer: Razer USA Ltd. is an American hardware manufacturer founded in 1998. The focus is on gaming devices as well as accessories; traditionally computer mice. The products were often named after fables or animals. However, Razer also offers laptops under the series name "Blade".
There are reviews on the Razer Blade series since 2013, but not overly many. The market share in the laptop market is low and the ratings are average (as of 2016).
79.11%: This rating is not convincing. The laptop is evaluated below average, this is not really a recommendation for purchase.
» Further information can be found in our Notebook Purchase Guide.