Production glitches with iPhone 8 OLED screen could hurt holiday sales, claims Wall Street Journal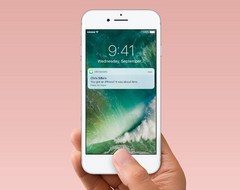 The Wall Street Journal has reported that they were informed of "production glitches" by a source close to the issue. The problems have apparently caused a shortage of completed products and this shortage could continue into the Christmas period.
Apple shares took a slight hit today after the Wall Street Journal ran an article in which their sources claimed that there were "production glitches" early in the process, putting the production behind by around one month. The effect of this is that while there are complete units available for the launch date, supply will be low and the traditional shortage of iPhones upon release could continue into the Christmas purchasing period. Foxconn is allegedly paying bonuses to staff who can recruit new workers to increase production.

Apple is revealing the new iPhone next week with sales rumored to begin around the 22nd of September. Apple are promising big changes for the 10th 'Anniversary Edition', so instead of getting an 's' modifier in the name there is speculation that it will get its own number (e.g., iPhone 8) or possibly something more unique, such as iPhone X or iPhone 10. The rumored sale price starts around US$1000 with prices going higher depending on storage choice, which makes it noticeably more expensive than previous generations were at launch.

Rumors were already circling that Apple faced production challenges with their decision to move to OLED screens and the unusual way in which they wanted the touch interface to connect. They also reportedly had problems with incorporating their fingerprint scanner into the all-screen design and may have switched to facial recognition for unlocking the device. There is a chance that this new report on "production glitches" is just referring to these cases, but things could get interesting for Apple if there is a shortfall going into Christmas.