Latest iPhone 8 rumor reveals 512 GB model with a $1,200 price tag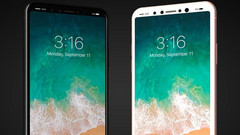 As previous rumors have suggested, Apple's upcoming iPhone should be the most expensive yet. Starting at US$999 for the base model with 64 GB of storage and going all the way up to US$1,199 for a 512 GB version, the iPhone 8 will be anything but affordable.
The iPhone 8 is coming on September 12, but prices and storage configurations for the three expected models have already leaked. According to a Twitter post by Benjamin Geskin, there will be 64 GB and 256 GB iPhone 8 models, plus a third model with a whopping 512 GB of storage space. There will be a US$100 price increase with each successive tier.
If Geskin's information is accurate, the exact configurations and prices will be as follows:
64 GB - US$999
256 GB - US$1,099
512 GB - US$1,199
A second rumor from China paints a different story. It claims that there will be only two iPhone 8 models with 128 GB and 256 GB of storage. The upcoming iPhone 7s and iPhone 7s Plus will also come in the same storage configurations; however, there will be an additional "entry-level" 64 GB option. Prices for the iPhone 7s handsets should match those of the current iPhone 7 and iPhone 7 Plus.
There is no way of knowing which of the rumors—if any—is correct, but Apple's iPhone event is happening next week so we will find out soon enough. Until then, these latest rumors should be taken with a grain of salt.