PC Health Check scareware allegations cost Office Depot and Support.com US$35 million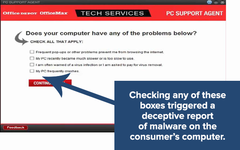 Office Depot, Inc. and Support.com, Inc. have agreed to pay a combined total of US$35 million to the US Federal Trade Commission (FTC) after being accused of tricking customers into paying for unnecessary computer repair services. Support.com has been involved in a similar scareware scandal before, in conjunction with AOL's Computer Checkup service.
Office Depot will pay US$25 million as part of a settlement with the FTC, while Support.com has agreed to pay US$10 million. The FTC made allegations that the two companies were cheating customers in regard to PC repairs. A software program, called PC Health Check, was run on computers brought in by concerned users, and it unfailingly registered the presence of malware that led to additional PC repair services being purchased (at up to US$300).
The FTC claims the PC Health Check scan delivered false results. According to the agency's report, Office Depot's free PC check-up service invariably detected malware on a customer's computer. Customers were faced with the question "Does your computer have any of the problems below?" and were offered four common generalized answers (PC is slow, PC crashes, etc.) that they could select from. The FTC says that clicking on any of the answers generated a fake report of the presence of malware on the device.
Once the malware was reported, users were sold expensive repair services that were remotely performed by Support.com. In 2013, Support.com and AOL agreed to settle a legal complaint at a price of US$8.5 million under similar circumstances, with free PC scans locating malware that scared customers into buying expensive repair services. The FTC will use the settlement money from Office Depot and Support.com to refund affected consumers.