Nvidia CEO informs that the GTX 10xx GPU inventories are almost dried up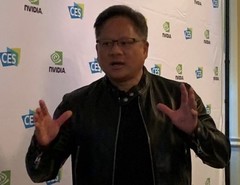 Jensen Huang is trying to divert attention from stock prices and investor troubles with an optimistic outlook over the inventory troubles that the green team has been having since early 2H 2018. Nvidia's CEO was happy to announce that the entire Pascal GPU inventory is almost gone, but this might not actually be good for end users who will be stuck with overpriced RTX 2000 cards.
Nvidia really had a rough 2018 and most of its problems were brought about by the crypto market crash. The first signs of trouble were given by the retail channels that were left sitting on huge inventories of Pascal GPUs. All major retailers were forced to cut prices in order to get rid of all the surplus, and the launch of the Turing cards in September 2018 helped bring down the prices of all GTX 10xx cards to very enticing levels.

Since the new RTX 2000 cards had and still have inflated prices, most of the consumers who were waiting for a GPU upgrade reoriented towards the previous gen Pascal cards, and thus, the initially huge inventories started to dwindle more and more towards the end of 2018. Meanwhile Nvidia went through stock price depreciations and some investors threatened to sell off their shares. In order to offer a more optimistic outcome, Nvidia CEO Jensen Huang recently announced in a VentureBeat interview that the green team has managed to clear out the entire inventory of Pascal cards.

Huang claims that the GTX 1080 Ti, GTX 1080, GTX 1070 Ti, and GTX 1070 GPUs are now sold out and the GTX 1060 inventories will be depleted by the end of January. Nvidia did announce the imminent availability of the RTX 2060 cards, but these are still a bit overpriced for a mid-range card. Rumor has it that Nvidia is planning to release a more affordable GTX 1160 card with Turing chips but stripped of the ray tracing cores, and that card will most likely be the true mid-range card as far as price is concerned.

On the other hand, AMD announced the Radeon VII cards, which are meant to compete with the RTX 2080, but gamers are actually waiting for the 7 nm mid-range GPUs that would force Nvidia to lower the RTX 2060 prices to more competitive levels.