Computex 2019 | Noctua showcases its award-winning NF-A12x25 fan, among others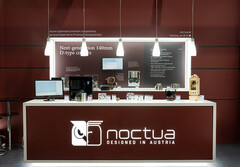 Noctua, often a go-to brand for PC fans, is at Computex to highlight its new and updated products. They include the NF-A12x25, which gained the European Hardware Association's best case-fan of 2019 award. The company has also made new ultra-thin fans, improved CPU coolers and fanless coolers.
Noctua is displaying a range of new or updated PC coolers at Computex 2019. The company is showcasing its award-winning NF-A12x25 product at the show. There is more to see for those interested in protecting their builds from excessive heat (or noise, in some cases). For example, upcoming fanless coolers are here in prototype form.
These products may provide an alternative path to temperature control within a case with a cool look, (and no sound) too. Noctua claims that one particular (1.5kg) model of these could keep a heat load equivalent to 120W associated with an Intel Core i9-9900K running Prime95 under control. On the other hand, the same heat-sink needed an NF-A12x25 ULN to handle 180W. Nevertheless, this may be a good sign that passive coolers are getting somewhere in terms of efficacy.
What about, say, an AMD Threadripper 2990WX associated with an output of 435W, though? Noctua asserts that the new version of the NH-D15 fan was sufficient to deal with the processor in such a condition. This fan, in addition to the NH-D15S, is being updated with an extra heat-pipe and 10% greater surface area compared to their existing counterparts.
The company also had something for enthusiasts after parts to fit even the most unusual or eye-catching custom build. These include new super-thin fans of various heights in clear plastic; AM4-, LGA20xx-, LGA115x- or TR4-compatible fans, and existing models in new (black or white) colors or chromax lines.