New beta of iOS 11.3 allows you to disable battery performance throttling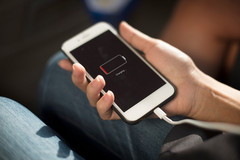 Thanks to the Battery Health settings that appeared in the latest beta, owners of iPhone 6 and iPhone 7 handsets will be able to disable performance throttling and to keep their devices running at full speed. However, iOS 11.3 has no launch date yet.
When a manufacturer releases battery optimizations as part of a software update, there is no reason to complain about it. Sadly, Apple's battery life-increasing update achieved this goal by slowing down the processor speed instead of just optimizing the code. The worst part of it all? Apple did all this without the users' knowledge, although they finally made it public.
For now, only registered developers can enjoy the new battery settings, but iOS 11.3 will bring back the power to tweak the battery settings to the users. The second iOS 11.3 beta update has a battery performance management on/off switch located in Settings > Battery > Battery Health (Beta). This option is not enabled by default, becoming available only after the occurrence of an unexpected shutdown caused by a worn out battery, according to Apple.
As you probably know already, Apple did the nasty throttle thing to the iPhone 6, iPhone 6 Plus, iPhone 6S, iPhone 6S Plus, iPhone SE, iPhone 7, and iPhone 7 Plus handsets. Obviously, these Apple phones will all receive the new Battery Health settings once iOS 11.3 comes out. The only question remaining concerns the launch date of this update, which still has to be unveiled.
Apple recently wrote in a support document that the iPhone 8 flagships and the top-of-the-line iPhone X "use a more advanced hardware and software design that provides a more accurate estimation of both power needs and the battery's power capability to maximize overall system performance" so "the impacts of performance management may be less noticeable" in their case.
At last, some great news: in late January, Apple decided to charge only US$29 (down from an insane US$79) to the users of any iPhone 6 (or later) who need a replacement battery. This great deal will be available until the end of the year.