New Sony compact phone in the pipes - Xperia 4, Snapdragon 710, 21:9 display, 2800 mAh, no jack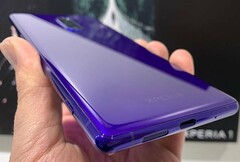 Following the launch of the Xperia 1, Xperia 10, and Xperia 10 Plus a few weeks ago, Japanese OEM Sony is set to unveil yet another device. The device, said to be the Xperia 4, will be a compact sub-premium phone featuring a Snapdragon 710, dual rear cameras, and Sony's new 21:9 display.
Sony released a bunch of new devices last month at MWC. The company rebranded its Xperia XZ flagship and XA mid-range lines into the Xperia 1 and Xperia 10 phones respectively. Apparently, the company doesn't plan on stopping there, as a new report claims a sub-premium Sony phone is also in the works.
The device will apparently be the Xperia 4. Going by the new naming scheme, that puts it somewhere between the Xperia 1 and Xperia 10, and we expect it to be positioned similarly to Samsung's Galaxy A series, or Huawei's Nova line.
The Xperia 4 is expected to feature a 5.7-inch FHD+ 21:9 display. It's unknown if it'll be an LCD or AMOLED panel. Under the hood will be a Snapdragon 710, 4 GB of RAM, and 64 GB of storage. A dual camera setup and a 2800 mAh battery complete the known specifications sheet.
A 2800 mAh battery is something of a disappointment in that segment since companies like Huawei, Xiaomi, and Samsung are all putting big batteries in their sub-premium phones. Sony has never been one to follow trends, though, and the company's battery optimization is, perhaps, class-leading.
Another negative is the absence of a headphone jack. Companies have generally excused that overture by claiming they need the space for a bigger battery, but this phone is said to have a puny 2800 mAh unit, so we're not sure what Sony's excuse is this time around.
The device is expected to be released sometime in the summer, perhaps at IFA.