New Half-Life game details leaked ahead of The Game Awards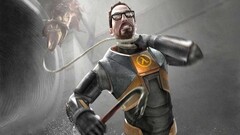 Rumour has it that Valve plans to announce a new Half-Life game, and soon. Apparently based around protagonist Alyx Vance, the game may see a release as early as Q1 2020. It looks set to be sad news for those holding out for Half-Life 3 or even just Half-Life 2: Episode 3, though.
Working For Notebookcheck
Are you a techie who knows how to write? Then join our Team! Especially English native speakers welcome!
Currently wanted:
News and Editorial Editor - Details here

Half-Life 3 has gained mythical status in the last decade or so, with Valve continually teasing the prospect of releasing a follow-up to Half-Life 2: Episode 2. Twelve years have passed since Valve released the last Half-Life game, but popularity around the series remains so high that there is even a fan-made sequel called Project Borealis in the works.
Now, the leaker behind the DOTA Underlords has published a conversation between Geoff Keighley, Robin Walker and an unnamed third person about the prospect of Valve releasing a new Half-Life game. Keighley was the creator of The Final Hours series, while Walker is best known for being the co-developer of the Team Fortress series. According to the leak, preserved on Pastebin but deleted from Google Docs, Keighley is reported to have said:
March 2020, "Half-Life: Alyx" comin' out...
So, Valve is apparently on the verge of releasing a new Half-Life game, presumably based around Alyx Vance, the NPC who first appeared in Half-Life 2. However, the conversation snippets state that the game is "VR only". Moreover, the same leaker claims that "Half-Life: Alyx" will be unveiled at The Game Awards on December 12. While this could be the next Half-Life game, it will not necessarily follow-on from Half-Life 2: Episode 2. Moreover, its limitation to being a VR-only title will likely annoy many fans of the Half-Life series.
All this sounds like a huge leap, but it does fall in line with the claim made by PCGamer in April. Valve had teased it would be releasing a "flagship VR game" later this year, so the timing would fit. As Half-Life fans, we are still excited about the prospect of a new Half-Life game being released, though. You can read the full snippets posted on Pastebin.