Motorola is working on a proper flagship phone: Finally a true Moto Z2 Force successor?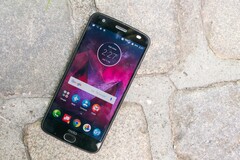 Motorola hasn't delivered a proper flagship in the last two years. That may be set to change in the near future, however, as a new report claims the company has its sights on a true flagship device that will sit above the sub-premium Moto Z line.
Motorola has been on something of a decline, at least in the premium segment. The company has, over the past year or so, chosen to focus on the mid-range market, best evidenced by the recent launch of the impressive Moto G8 Plus. Things may be set to change soon, though.
According to Tech Radar, Motorola plans to make a big comeback to the premium segment. The company reportedly alluded to it at a media briefing for its new product launches, by showcasing its current E, G, and Z lineups in a graph, with an un-named "Flagship" entry above all of them.
It's not concrete evidence of anything but it does point towards Motorola havings its sights set on a proper flagship device. Moto's last true flagship was the Moto Z2 Force, released back in 2017. The Z3 featured a last-gen SoC, and the Z4 was flat-out a mid-range phone.
The company, a few months ago, confirmed that it would not be releasing any new Z-series devices this year, so there's a chance the new device will be the first in an entirely new series.