Microsoft's Lumia smartphone sales numbers disappoint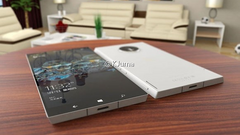 Windows Phone may be on its last legs, but Microsoft isn't giving up on smartphones just yet. The upcoming Surface Phone represents all of the company's hopes and dreams when it comes to the mobile market.
Working For Notebookcheck
Are you a techie who knows how to write? Then join our Team! Especially English native speakers welcome!
Currently wanted:
News and Editorial Editor - Details here

Microsoft's recently released earnings report for Q4 2016 shows that the company is struggling in the smartphone sector with phone revenue down 81 percent compared to the same period last year. The exact number of Lumia phones sold in the last quarter of 2016 is uncertain, but most seem to agree that this number did not exceed one million.
Compared with the 4.5 million Lumia phones sold in Q4 2015, Microsoft has fallen a long way. The Redmond-based company seems to have been left in the dust in the smartphone market with an unpopular mobile OS. In the latest IDC report, Windows Phone represents just 0.3 percent of the smartphone market. Now that its unsuccessful feature phone business has been sold off to Foxconn, it seems like the Surface Phone is Microsoft's last hope to get a foot in the door before they are completely crowded out of the market.
Windows Phone may have limited opportunities for growth, but Microsoft sees potential in their desktop Windows 10 which they are hoping to bring to the Surface Phone. Based on the rumored specs of the device, it will be a premium flagship smartphone to compete with the best like the Samsung Galaxy S8. It will certainly have to be a surprisingly-excellent device in terms of software and hardware to have a chance at pulling people out of the Apple or Android ecosystem.