Microsoft blocks Windows 7 and 8.1 updates for Kaby Lake and Ryzen PCs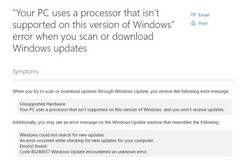 As promised by the Redmond company last year, Microsoft will soon begin blocking updates for Windows 7 and 8.1 on Kaby Lake and Ryzen platforms.
Despite Windows 7 and Windows 8.1 having support lifetimes until January 2018 and 2020 respectively, Microsoft announced last year that it wouldn't support operating systems other than Windows 10 on modern chip platforms such as Kaby Lake. Although there was a brief ray of hope for Ryzen when it was announced that their new chips would support Windows 7, that was shut down just a few days later when AMD confirmed it was focusing on Windows 10 only. At the time of the original announcement, it was not clear exactly how Microsoft would enforce their draconian proclimation. It is now.
According to Microsoft's Knowedge Base article, users may encounter an error when attempting to update, which states "Your PC uses a processor that isn't supported on this version of Windows". This suggests that Microsoft will be actively blocking Kaby Lake and Ryzen users from getting updates for their PCs as opposed to simply neglecting them, according to Ars Technica. Kaby Lake and Ryzen users on Windows 7 and 8.1 have reported that the block doesn't seem to have taken effect yet—but the Knowledge Base article is evidence that it is likely planned to be soon.