Microsoft announces Xbox Scorpio specs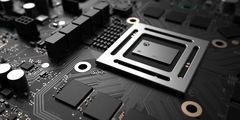 Project Scorpio, the name Microsoft uses to call their successor the Xbox One, was called "the most powerful console ever," and today the company showed that this isn't just marketing language. According to Digital Foundry, the current Xbox and Playstation have been left in the dust by the new hardware.
Working For Notebookcheck
Are you a techie who knows how to write? Then join our Team! Especially English native speakers welcome!
Currently wanted:
News and Editorial Editor - Details here

Microsoft invited Digital Foundry to their Redmond campus to get a sneak preview of the improved hardware on the successor to the Xbox One, codenamed Project Scorpio. Digital Foundry received a huge amount of information about the device and how far along the production schedule it is. According to the report, Project Scorpio is running so far ahead of schedule that we could see a release as early as six months from now.
Among the highlights are a custom six-teraflop GPU paired with 12GB of GDDR5 RAM and a custom eight-core CPU. Microsoft has also managed to fit all of that, plus a power supply and cooling system, in a compact form factor. For the GPU and CPU, Microsoft worked closely with AMD to create the specific parts they needed to achieve their primary goal for their next console: running games at 4K resolution.
The Scorpio Engine GPU uses 40 Radeon compute units ramped up to 1172MHz, a substantial upgrade over the Xbox One's 852 MHz and PS4 Pro's 911MHz. This is a mere 94MHz off the maximum boost clock of AMD's RX 480 graphics card.
On the CPU side, Scorpio uses eight x86 cores clocked at 2.3GHz, 31 per cent faster than the cores on the Xbox One. Though it doesn't use Ryzen cores, the improvements to the way the CPU sends information to the GPU has made it so CPU rendering has been reduced significantly, making communication from the game to the GPU far more efficient.